There's more to Eshna Kutty than a viral video. The Delhi-based flow artiste is a psychology graduate and a post-graduate in dance movement therapy and says her ultimate aim is to make as many people join the flow movement.
Sometime in late 2020, a video of a short-haired girl in a sari, hula hooping and dancing with abandon to Genda Phool went viral. Nothing about the video seemed rehearsed or even perfect but the fluidity of her movements and the sheer joy she exuded caught the attention of social media. Soon people were googling 'How to hula hoop?' 'How much does a hula hoop cost?' and more. Which was exactly what Eshna Kutty wanted. Over to Eshna who has roots in Kerala.
Has life changed after the video went viral?
Yes, it has. I got a lot of opportunities and recognition but most importantly I think I have been able to inspire a lot of people to join the art form and the movement. That is my biggest win.
It was also a time when I had just launched my company called Hoop Flo through which I teach hooping and also sell hula hoops. Many of those who were intrigued by the video are my students now.
How did you get into hooping? Are you trained in dance?
Actually, I'm not trained in any classical dance form. And I used to hate dance. I danced for the very first time in life in college and didn't like it. Maybe it was the way it was taught. I did it only because it was compulsory. But at some point, I fell in love with it in some weird way and now I can't get enough of it. I got into hooping about ten years ago after being exposed to it through YouTube.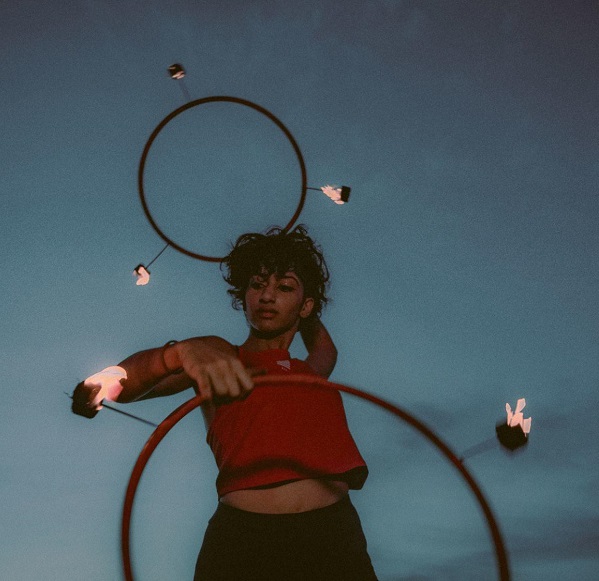 Is hooping as easy as you make it look?
It's like any other art form, and very rewarding once you get the hang of it. I did put in a lot of hours in the beginning but anyone can do it, and people can start at any age. All you need is a bit of space and a hula hoop of the right size, which is very crucial.
You've described yourself as a flow artiste, hooper and coach. You also sing and play the guitar. What would be your primary art form?
Hooping is my focus. Everything is a hobby which I do for the love of it or the fun of it. The flow movement is a global movement but it's still new everywhere, not just in India. I would prefer to call my company a movement rather than a business. The hoop community is growing fast but has no place to learn about it. It's a home for every flow artist. I want to be able to educate and teach anyone who wants to learn, not just people from India.
What is dance movement therapy?
It's a way of expressing your thoughts and movements through dance. It's different from a dance class which is skill-based, while dance movement therapy is more about self-care. I did my graduation in psychology and my post-graduation in dance movement therapy which I practise on the side.
There was some kind of a total lack of inhibitions about your performance in the viral video, which was what made people sit up and take notice. How do you view it?
Well, in order to have a level of proficiency or finesse in any art form, one has to keep letting go of how they feel about themselves, their insecurities, what others think about them etc. In order to be good at something you have to be ok with looking really stupid at it! A lot of the time, people quit something because they can't deal with the fact that they are imperfect at it. My quest has always been to embrace one's flaws and imperfections. That's what makes you unique after all. And me saying it out loud also means I have to follow it myself. In all honesty, I'm a perfectionist and it's often hard for me to put out blooper videos. But there is always a deep desire in me to keep growing as an artist and as a human being.
What would be your long-term goals?
I want more people to join the flow movement and I want to combine it with therapy. I might perform in select venues once the pandemic is over, but I love teaching more than performing.