The inaugural event of GCMA, Sangeetha Akhandam, marks the commencement of its initiative in Kerala's vibrant musical landscape.
On the evening of October 6th, an exceptional event is set to take place at the historic Kalikotta Palace in Tripunithura, nestled within the picturesque Ernakulam district of Kerala. The stage is prepared for 'Sangeetha Akhandam,' an uninterrupted 24-hour Carnatic music extravaganza. This remarkable musical journey will feature both seasoned maestros and emerging talents from the heartland of Kerala.
This event not only promises to captivate audiences with its musical prowess but also marks the official inauguration of the Kerala Chapter for the Global Carnatic Music Association (GCMA). This organization, founded with the noble aim of uniting Carnatic musicians worldwide, has been a beacon of support and empowerment for artists since its establishment in 2019.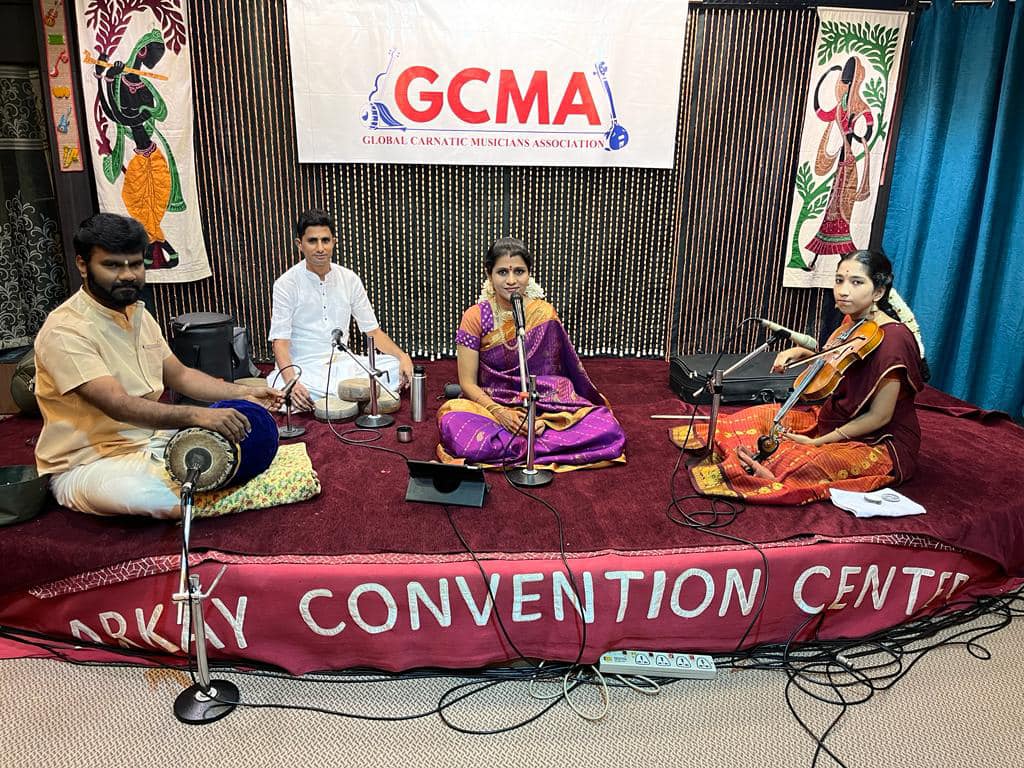 Led by Carnatic vocalist Sudha Raghunathan, GCMA seeks to provide invaluable opportunities and financial assistance to artists in need. Currently, GCMA has chapters across southern India, including Kerala, Tamil Nadu, Karnataka, and Andhra Pradesh. In each of these states, dedicated association members have been elected to support artists and their families facing challenging circumstances, particularly talented accompanists proficient in instruments like the violin and mridangam, who rely on their musical skills for their livelihoods.
A support in need
GCMA serves as a testament to the multifaceted ways in which an arts service organization can bolster and advocate for artists, responding to a recognized need within the Carnatic music community for a unified and supportive association.
In response to the COVID-19 pandemic, GCMA proactively organized the 'Paarambaryam' concert series, comprising 14 online concerts dedicated to fundraising. It garnered support from artists in the United States, India, and various countries worldwide, enabling financial assistance to Carnatic artists across the four southern Indian states. The association previously conducted a 60-hour-long music program and a global Margazhi festival.
VVS Murari, serving as the Kerala State Secretary of GCMA, affirms, "During the COVID-19 pandemic, GCMA was instrumental in disbursing funds totaling Rs. 65 lakhs." Moreover, in the previous year, the association introduced a Medical Insurance Scheme exclusively for its members, covering 120 artists with insurance of up to Rs. 5 lakhs, regardless of pre-existing health conditions. Plans are in place to extend this crucial insurance coverage to over 150 artists in the coming year.
In its unwavering commitment to safeguard and support artists, GCMA has introduced a Pension Scheme, offering a monthly stipend of Rs. 5000 to musicians facing financial difficulties, including Tampura artists. With these initiatives, GCMA not only harmonizes the Carnatic music community but also serves as a beacon of hope and support during challenging times. "We are also planning to avail railway concessions for artists through the association," says Murari.
GCMA's Kerala plans
"In Kerala, as in many other states, our association is embarking on a comprehensive initiative to nurture and promote young talent. Our plans include a series of monthly concerts, youth festivals, and various programs designed to discover and uplift young musical virtuosos," explains Murari. "Our upcoming event, Sangeetha Akhandam, in collaboration with Sree Poornathrayeesa Sangeetha Sabha in Tripunithura, will mark the inaugural step in realizing this multifaceted program." Senior musicians Prof. Kumara Kerala Varma and Natesan will be honored as part of the program.
The association also intends to establish partnerships with prominent cultural organizations, or Sabhas, situated across the state. These collaborations will facilitate a concerted effort to attract and enroll musicians hailing from South Central and North Kerala, fostering a sense of community and shared purpose.
"We are currently conducting membership drives across the 14 districts. In our pursuit of showcasing exceptional talent, we are also charting a course towards organizing a state-level music competition, " he says. The victors of this competition will be afforded the opportunity to perform on the stages of renowned Sabhas in Chennai as well as international venues, including the Cleveland Thyagaraja festival.