Being a Malayali is not a geographical identity. It is a state of mind.
I have said this countless times. A pride in the land I was born in, and its people, makes me say it. There is quite a lot to be proud of, also. But I know that an overpowering sense of pride will also lead to downfall. I do not let that pride blind me. I am aware that one of the main reasons that non-Malayalis dislike about the people is their superiority complex.
I can hear the guffaws in the background. What do they have to be superior about? We are not among the smartest or richest. We are not great in sports, except maybe in athletics. That, too, is because of an unassuming, yet astonishing lady and her legacy. (She has become sadly misguided in her later years, but the legacy lives.) Heck, most Malayali girls have a non-Malayali as a secret crush. Most Malayali boys crush on a Canadian-born chechi!
Malayalis feel superior about their literacy. They declare loudly that they are the only 100% literate state in the country. This is an achievement that has led to greater education and healthcare in the state. But it does not win the state many friends. It has led Malayalis to feel superior about themselves and the various fields they are involved in.
One such field is films. For decades, Malayali filmmakers ensured that the movies that came from the state would be talked about. They ranked below the great West Bengal in terms of art-house features, while being a clear leader in terms of popularly accessible commercial features. Most of these would have a good story, were somewhat rooted in reality, and had great roles for the performers. But, before the pandemic, hardly any non-Malayali saw movies from the state. The only films thcat truly went national were the soft-porn movies of the 80s and 90s.
The pride in Malayalam commercial movies – a lot of which were powered by the original Common Man Mohanlal – made us look down at other-language films. Tamil and Hindi movies did have a market in Kerala, but we watched them with a bemused, benevolent demeanor. It was our escape into fantasy. When a bunch of misogynistic old filmmakers and actors, wallowing in past glory and refusing to adapt to changing times, made the industry a laughing-stock in the years around the millennium, we knew we were paying the price for our pride.
Pandemic perks
It took the Internet revolution, the democratization of filmmaking, and a bunch of fearless young storytellers to bring Malayalam cinema back to a respectable level. Probably the only good thing to come out of the pandemic was the proliferation of OTT platforms and the openness of non-Malayali audiences to try out and be surprised by the new wave of Malayalam movies. This also allowed the Malayali film financer to feel confident about pumping money into an all-out popcorn feature. They believed that while the budget was a lot less than Tamil or Telugu, the films would not lack on the technical side, and most directors would bring a Malayali sensibility to the film. Both of these would expand its reach that much more.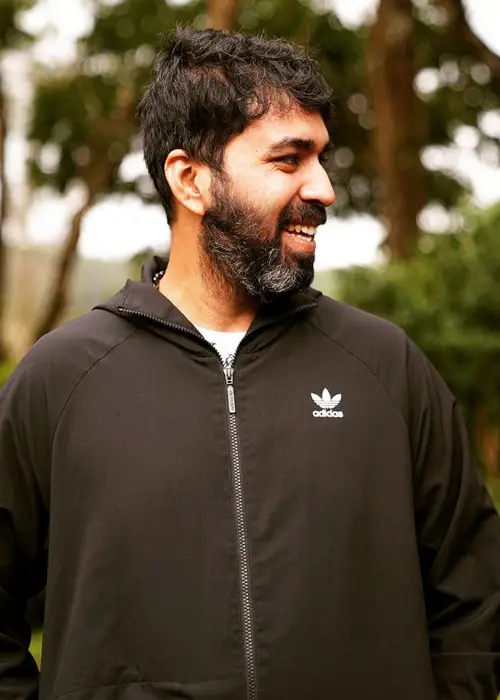 Roby Varghese Raj is one of those youngsters. He cut his teeth in the industry as a cinematographer, and after nine features, he felt confident to move to his first directorial venture. Working off a story by his elder brother Rony David Raj (himself a supporting actor), the younger Raj set out to make a film around a real-life special police squad set up in the northern district of Kannur.
The Kannur Squad was led by Inspector George (Mammootty) and consisted of Jayan (Rony David Raj), Jose (Azeez Nedumangad), and Shafi (Shabareesh Varma). They were deputed to solve a particularly gruesome home invasion case and given just 10 days to do that. Their investigation led them from the southern state of Kerala all the way to the Nepal border. Using old-fashioned police work and no fancy deductions, the team traveled through the length of the country in search of the criminals who, while being oblivious to this particular squad, tried to stay ahead of the police in general.
Roby decided to avoid too many filters while shooting. Mohammed Rahil, Roby's Assistant Cinematographer in his earlier movies, takes charge of the camera. There are some striking visuals and locales. But it always feels stark, instead of lush. There is the obligatory overhead drone shot of a vehicle going on a meandering road, that no Malayalam cinema is able to do without. But it is kept to a minimum. The background score is by Sushin Shyam, who has been building up a frightening filmography since Kumbalangi Nights in 2019. He alternates between restraint and full-on assault on the senses. He also sings the two songs that somehow elevate the mood in an investigative thriller.
While most of the Kannur Squad are familiar faces, they are still not popular enough. This enables them to disappear into the characters they portray. The two main villains, if you could call them that, are both played by very efficient newcomers. They do not have too much screentime, but, in that, they acquit themselves well. A lot of the characters that the squad encounters on their way were probably played by theatre actors in those areas. At least, such is their confidence.
A special call-out has to go to Kishore, a Kannada veteran, who is developing a pan-India presence. He gets the meaty role of the Police Superintendent Cholan. This is not the first time I have seen Kishore as a cop, but it never seems like he repeats himself.
Mammootty's unstoppable acting
Then there is Mammootty. He is not the only 70-year-old actor who is able to get villains to fly away in slow motion when they come in contact with even his aura, much less his fists. South Indian cinema is full of such supermen. But it is what he does in the other times that really proves what a force of nature he is. The frustration at the criminals getting away just as he is near them, the irritation at his juniors' bickering, to the sadness when he hears a horrific tale, are what define an actor. And Mammootty is one, first and foremost.
His silences speak louder than any of the dialogues he has. Something about his performance made me think of life after Mammootty. He cannot keep doing this. At some point, the body will say it is not worth it, and he will embrace smaller roles. While Malayalam cinema does have more than its fair share of young, capable actors, there is none with the perfect mix of talent, craft, and charisma. He is truly one of the wonders of the small state.
There seems to be almost a genre developing that can only be called 'the road trip investigation cinema.' Kuttavum Shikshayum (Crime and Punishment) was one of the first that came to mind. It had a very similar premise and was more true to life. Thankam (Gold) and even Nayattu (The Hunt) followed the trend in parts. In a way, Lijo Jose Pellisseri's bewildering Churuli also featured an investigation in other lands. Kannur Squad follows the trail.
But the film's biggest victory is it makes you think that that is what the movie is all about. No, it is not. Kannur Squad is a commercial action movie. The number of times I thought of Jailer, Rajnikanth's hilariously over-the-top return to form, was surprising. There are too many unnecessary loose threads to be a taut thriller. The first case we see of the team and the corruption angles were both superfluous. The call-out to the honest cops in the Kerala Police and their dedication was rather grating. As was the wink and nod to how everyone – criminals included – were dumbstruck with the brilliance of the Malayali cops.
But two things still stand out. Roby Varghese Raj wanted to prove that his kind also could make a bombastic commercial movie as well as his peers in other states. He then wanted to make it better. He did that by camouflaging it as a serious film. The second one was Mammootty. Because of these reasons, I ended up enjoying the movie much more than I had any business doing. That damn Mallu complex. I really need to get rid of it!