Step into the world of M D Ramanathan's melodious creations and experience the finest of the finest in the realm of Carnatic music.
Tripunithura is a small town in Kerala. A gentleman named Krishnamoorthy organizes a special concert there every year. This event is dedicated to one of the greatest musicians of all time, M D Ramanathan. In 2023, Krishnamoorthy went one step further, as this happens to be the birth centenary of M D Ramanathan. He has been uploading concerts by M D Ramanathan on his YouTube channel every single day!
For many serious lovers of good music, this has turned out to be a bonanza. We wake up every morning and check out his channel for the latest treasure that he has shared with us.
M D Ramanathan was always a musician who elicited strong responses from listeners. There are some who don't like his music at all, and there are others who swear that his was the most divine music they have ever experienced! We hardly ever come across people who casually say that they are okay with M D Ramanathan's music or that they like it somewhat. Among the people who supposedly like M D Ramanathan's music, there are again two distinct categories.
People like Krishnamoorthy, who has earned himself the label "MDR Day Krishnamoorthy," and people like me, who have been MDR addicts all our lives, as well as the new wave of MDR lovers, many of whom had never even heard his voice until recently. This is a phenomenon common to many genuinely great people throughout history.
Eternal musician
In the Thyagaraja song "Samaja Vara Gamana" (which became a super hit all over South India after it appeared in the Telugu film "Shankarabharanam"), there is a line that goes "Kaalaatheetha Vikhyaatha." While many singers tend to split the words wrongly and sing "Kaalaa Theethavikhyaatha," M D Ramanathan always made it a point to highlight the correct lyrics by deliberately singing "Kaala Atheetha Vikhyaatha," a phrase that would instantly light up the faces of genuine MDR devotees with a smile of recognition.
These days, with the advent of social media, branding, aggressive marketing, and promotion, products of many kinds can be made popular despite having little or no merit. But "Kaalaatheetha Vikhyatha" stands for everlasting fame, which goes beyond the constraints of time. And our Samaja Vara Gamana singing Birthday Boy definitely falls into this category.
According to our ancient belief system, Bharathiya Samskaram or Indian Culture is blessed with 64 art forms. It is believed that music occupies the top spot among these.
From the different forms of music that we are blessed with, classical music, be it South Indian classical Carnatic music or North Indian classical Hindustani music, is presumed to be the finest of the finest. But in reality, the way many classical vocalists render the beautiful compositions by the great masters sadly sounds rather crude and vulgar, to put it mildly.
The reason for this is quite simple: most of the songs by Thyagaraja, Muthuswamy Dikshitar, Shyama Sastry, Maharaja Swathi Thirunal, Patnam Subramanya Iyer, Mysore Vasudevachar, and others are in Telugu or Sanskrit. And many singers have no connection at all with either Telugu or Sanskrit.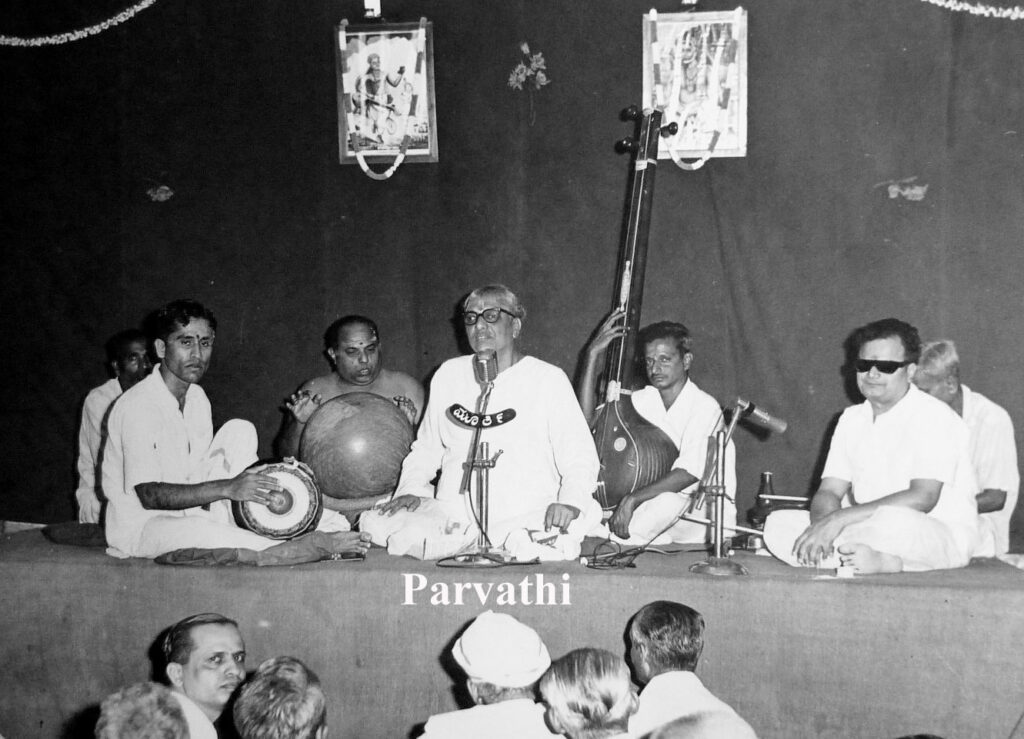 Soulful connection with lyrics and artistry
There is a world of difference between the way a person would sing a song when there is no connection with the lyrics and when there is a strong connection. M D Ramanathan had a strong connection with the lyrics, whether he sang in Sanskrit, Thamizh, or Telugu. This automatically gave his interpretations of many compositions by the great masters a completely unique and different feel from what one normally gets to listen to.
When this happens, some listeners would be disturbed and would tend to move away from this music because many people hate to be challenged or brought out of their familiar comfort zone. Some people are stunned and fascinated precisely by the same uniqueness, and they just enjoy it without bothering to understand more.
A few of us who are truly fortunate try to go deeper and deeper into why he sang something a certain way while most others sang the same thing in a different way. This process of constant questioning, exploration, discovery, and celebration is a win-win situation whereby we gain greater knowledge and deeper insights into the subject, and simultaneously, the level of our enjoyment increases exponentially too! The downside is that we might consequently feel let down by many singers whom we might have rated highly while we were casual listeners. But where we lose out quantitatively, we are compensated more than abundantly qualitatively.
This man scored very high throughout his life when it came to increasingly alien words like ethics, morals, standards, values, aesthetics… you name it! Throughout history, we come across brilliant individuals who were unique and far ahead of their times, who were either ignored or ostracized by society. M D Ramanathan would more or less fall into this category. He had amazingly appreciative audiences in locations like Mumbai, Mysore, and Bangalore… audiences that filled the halls and came up with rapturous applause too. Though he always had his coterie of devoted admirers everywhere, he wasn't generally considered a crowd-puller. Being endowed with a sensitive mind and a fragile body didn't help either.
Music rooted in Guru-Shishya bond
He was born in the lap of Mother Nature at her best, in Manjapra district, Palakkad, and he spent most of his life—first as a student and later as a teacher—at Kalakshetra in Madras, which again nestled cosily in the lap of nature. He shared an intense and intimate relationship with his Guru, the legendary Tiger Varadachariar, and was his only student at Kalakshetra when he signed up for the Sangeeta Shiromani course. Because of this, even though it was institutionalized learning, technically speaking, it was a Guru-Sishya equation at its best, in reality.
He generally got to sing at the top venues all over the country with the top accompanists of the time. One generally observes some kind of inability on the part of some of his violinists to connect with his mind, his soul, his spirit, and his vision, while many mridangam artists raised their artistry to the next level while playing with him. This simple soul lived a simple life and left us quietly on the 27th of April, 1984. But the legacy that he has left us with is truly a gift that continues to give, be it the recordings of his concerts or the few compositions that are in circulation these days. He has written close to 300 compositions, most of which continue to sleep in his handwritten notebooks.
Though he has not given the notation for most of them, it is a delight even to go through these books and enjoy seeing his handwriting, which was equally neat, be it in Malayalam, Telugu, Thamizh, or Samskritham, all four of which he had mastered!
I had the pleasure of giving an illustrated talk about him at The Madras Music Academy during their December Season where I tried to cover various aspects of his music, his life, as well as his personality.
This article is the 7th or 8th that I have written about him for various publications during the past few months. I have enjoyed the challenge of keeping each article different, even though the subject remains the same. The two reasons why this has been possible are because the subject is so rich and colourful and because I am someone who has been celebrating MDR Day every single day of my life for more than half a century.