Exploring the Air India collection, Maharaja's Treasure, at the National Gallery of Modern Art, Mumbai"
 The National Gallery of Modern Art, Mumbai, a haven for art enthusiasts, has embarked on a remarkable journey through time and artistry with its latest exhibition titled 'Maharaja's Treasure: Select Works of Art from the Famed Air India Collection.' The exhibition, inaugurated by the   Union Minister of State for External Affairs and Culture,  Meenakshi Lekhi, transports visitors into the world of Air India, where artistic masterpieces redefine the very essence of air travel.
Curated with meticulous attention to detail, 'Maharaja's Treasure' unveils an extraordinary collection of paintings and sculptures by renowned artists such as VS Gaitonde, GR Santosh, KH Ara, B Prabha, Pilloo Pochkhanwala, MF Husain, Raghav Kaneria, and many others. These visionary creators have left an indelible mark on the artistic landscape, and their works showcase the airline's commitment to elevating the air travel experience.
Presented within the National Gallery of Modern Art's thematic display, the exhibition boasts approximately 200 artworks, providing a captivating and immersive experience. Art enthusiasts and curious minds alike can explore this exhibition until August 13, 2023, at Gallery, located in the heart of Fort, Mumbai.
During the inauguration,  Lekhi remarked, "It's truly a Maharaja's collection, as 80 years of the Air India story is depicted through paintings and art-pieces." She expressed gratitude to Air India for fostering and nurturing artistic talent when artists sought patronage. Recognizing artists as vessels of divinity, she emphasized their perpetual quest for self-improvement and the importance of cherishing and promoting our artistic heritage.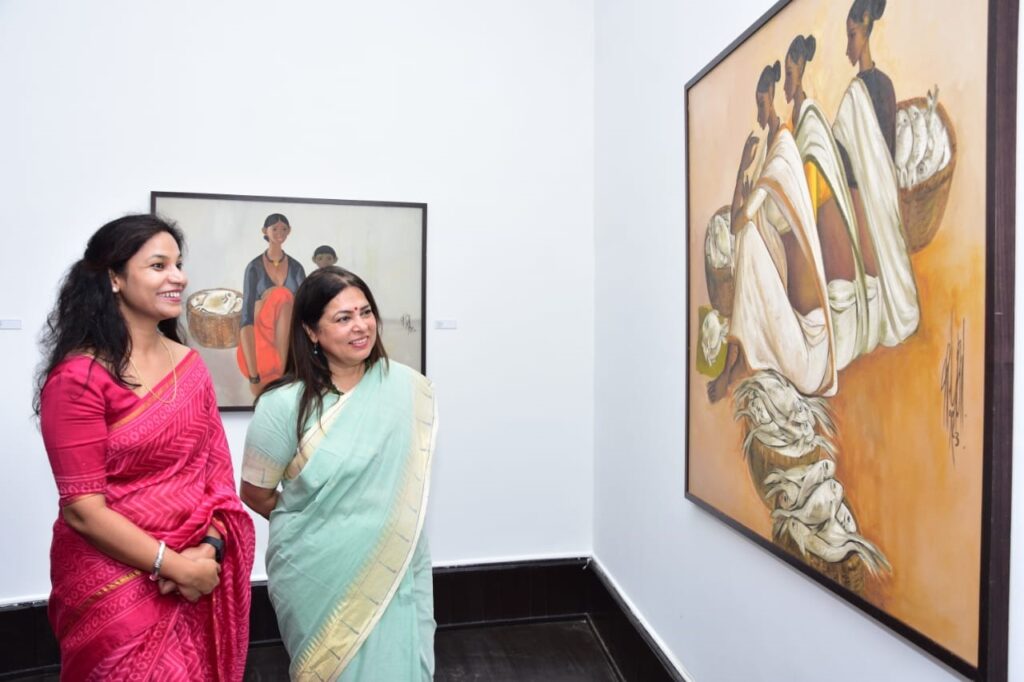 In light of the ongoing celebrations of Azadi Ka Amrit Mahotsav, the minister emphasized the significance of understanding and embracing our traditions. Acknowledging India's profound heritage in arts, crafts, and culture, the minister highlighted the government's unwavering commitment to preserving and promoting cultural heritage alongside infrastructural development. Initiatives such as the establishment of new museums, the preservation of cultural treasures, and the creation of heritage universities are testaments to the government's dedication to nurturing the country's artistic legacy.
The impressive diversity and breadth of the Air India collection, now under the care of the Ministry of Culture, have found their permanent abode at the National Gallery of Modern Art. Symbolizing a unique milestone in the history of commercial airlines, this collection stands as a testament to the airline's unwavering commitment to art and its role in showcasing India's cultural vibrancy.