In this part of the series, the author discusses MT's films  "Vellam (Water)," "Uyarangalil (At the Heights)," "Aksharangal (Alphabets)," and "Adiyozhukkukal (Under Currents)," providing insights into the cinematic and narrative aspects of these movies and their significance in the context of Malayalam cinema during that era.
Film: Vellam (Water) (1984)
Cast: Madhu, Prem Nazir, Sathaar, K R Vijaya, Menaka, Srividya, Adoor Bhasi
Director: Hariharan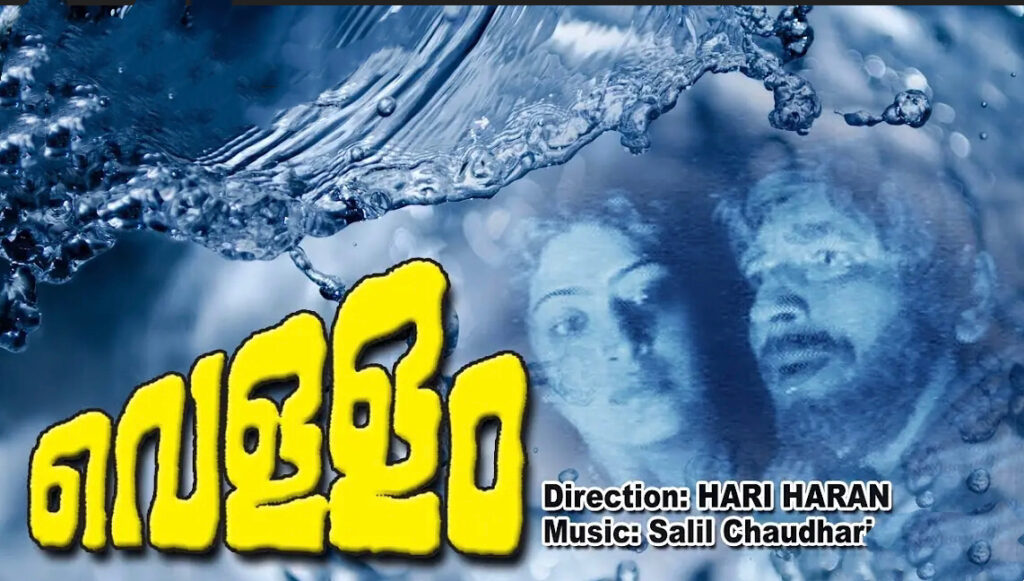 Writers are imaginative individuals. They envision scenarios that the common person might never have considered. Occasionally, circumstances align, and one truly comprehends the depth of that imagination. "Vellam," a novel by N. N. Pisharody, was not the first novel that MT adapted for the screen that wasn't his own, nor would it be the last. However, he saw something in the novel that he recognized as a unique cinematic scenario. Boy, was he right about it
"Vellam" is a generation-spanning novel, dealing with single-minded purpose, human enterprise, societal norms, the elements, and matters of the heart. But it is primarily set around a decaying ancestral home, its inhabitants, and the bonds that bind them. It's not a stretch to assume that it's the latter that attracted MT.
Mathukutty (Madhu), a young man, leaves his land and his love, Leelamma (Srividya), in pursuit of his fortune. He arrives in a small riverside village and meets the childless patriarch of an old family, Thampuran (Bhasi). He rents a small shop to start his business and befriends Krishnan Unni (Nazir), the household manager.
The ancestral home had fallen on hard times. Thampuran was struggling to make ends meet despite owning most of the land in the village. His niece, Maya (Vijaya), had left her marriage and returned home primarily because her husband had discovered her with her paramour, Unni. Maya is too proud to leave her home and live with the lowly manager; she would rather cling to the vestiges of a bygone era and its customs than find her happiness. Unni reluctantly acquiesces to her request.
Fate prevents Mathu from reuniting with Leelamma, while society prevents Krishnanunni and Maya from leading their life, despite having a child, Ambika (Menaka), born from their relationship. But does fate have an ace up its sleeve in the form of torrential rains and ensuing floods? Have the decades that have passed swept all feelings away?
"Vellam" is a remarkable achievement. Actor Devan produced this film, and legend has it that he became an actor just to make enough money to complete the film, even though he ran into financial difficulties and had to halt screening. The film doesn't show any signs of its troubled history. Two sequences stand out when compared to the movies of that era. The first is the transfer of bamboo logs over a river, astonishing in its ambition, with actors clearly visible on a makeshift bamboo raft navigating strong currents. The second is the flood scene, which was remarkably well executed, even if it was evident that a set was built to mimic the old house in the flood.
The MT-Hariharan team is in top form, with Hariharan showcasing his ability to handle a large canvas, a skill that will be evident in his future works as well. Even in a damaged video on YouTube, the scale of what he set out to achieve is visible. MT keeps us engaged with the family dynamics of an almost ancient age. We begin with disbelief at Maya's insistence but gradually see the prison she inhabits, a poignant commentary on society and its rituals.
While the temptation may have been to cast the bigger star, Prem Nazir, in the role of Mathukutty, it's fortunate that they didn't. Madhu possesses the physique and gravitas to do justice to the role. Nazir, to his credit, portrays the timid Unni wonderfully. It's surprising that he didn't receive more recognition for this role. However, considering that most of the story was set when the main characters were young, they could have chosen actors approximately 20 years younger.
K R Vijaya has a substantial role, and she seizes the opportunity. Another pleasant surprise is Adoor Bhasi, who, while starting off in the comedic upper-caste roles he had done so many times before, finds ample room to bring poignancy to the character. Bhasi is too accomplished an actor to let that opportunity slip by.
From what I could find online, "Vellam" was a flop in theaters. That is truly regrettable. This is a film that deserves to be mentioned alongside the other MT-Hariharan collaborations. It may not have been perfect, but it was undeniably ambitious!
Film: Uyarangalil (At the Heights) (1984)
Cast: Mohanlal, Nedumudi Venu, Rehman, Swapna, Kajal Kiran, Viji, Janardhanan, K.P. Ummer, Ratheesh, Thilakan
Director: I.V. Sasi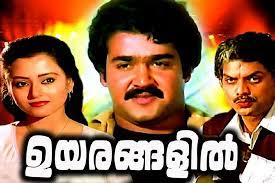 The 1980s marked a significant decade for Malayalam cinema. During this period, it was widely recognized that even the most commercial of movies should have a decent storyline. Kerala, along with West Bengal, also dominated the art-house market. It was a time when the audience's admiration began to split into two camps: Team Mammootty and Team Mohanlal. These two actors were solidifying their leading man status at the beginning of the decade, and by its end, Malayalam cinema had two enduring pillars.
The 1980s were also what I refer to as I.V. Sasi's "hostage period." The director, known for casting only familiar actors in his films, had a firm grip on Mammootty and Mohanlal. One or both of them had to be in every movie he made. Considering he made over 40 films during this period, this was a substantial portion of each actor's filmography. For a time, around 1984 and 1985, he added MT to the list of his captives, resulting in a run of eight scripts that MT wrote exclusively for Sasi.
These are intriguing films. The actors had not yet attained the trappings of superstardom and were free to portray negative and complex shades in their characters. MT had not yet reached his golden period in Malayalam cinema, but he had become a prominent name in the opening credits. He operated under commercial constraints and collaborated with the most commercial of directors, but the signs of his future success were apparent. He would soon break free. As we would later see, Hariharan would be the one to unshackle these creative constraints, although it didn't happen overnight.
Despite being a small movie industry, Malayalam cinema produced its fair share of thrillers over the years. Thanks to YouTube, more people are discovering hidden gems, and "Uyarangalil" is one such surprisingly efficient thriller.
The movie opens with a man fleeing from the police, starting with a wordless chase. You have no idea who he is or why he's running, but you're immediately hooked. Within a few minutes, we are introduced to Jayarajan (Mohanlal), Chandran (Rahman), and Joseph (Venu), employees at a tea plantation planning a theft from the company. However, their plan quickly falls apart. Jayarajan refuses to give up and escalates their criminal activities. The other two, ordinary men down on their luck, get drawn into this downward spiral. But who is Jayarajan, and what motivates him?
As the movie unfolds, we realize that Jayarajan embodies capitalism. His life revolves around making money, with no regard for morals. People are mere tools to achieve his goals, to be used and discarded. During the police investigation, clues emerge that Jayarajan's background isn't what he claims it to be.
Mohanlal delivers an outstanding performance as Jayarajan. While his mannerisms and dialogue delivery may have become somewhat tiresome today, it's these very traits that made him a beloved star in the first place. In recent years, this film has gained new fans who consider it one of his best anti-hero performances, but it's essential to note that Jayarajan is unequivocally a villain, devoid of any grey areas.
Kajal Kiran continues the trend of North Indian actresses coming to Malayalam cinema for more substantial roles, possibly with less remuneration. She, along with Swapna and Viji, plays one of the three women who fall for Jayarajan and become pawns in his schemes. None of them fit the traditional weak-woman stereotype, but they all succumb to the conman's charm. I didn't know much about Viji before this, but I learned that she had a short career that tragically ended in suicide following a failed affair with a married director.
The supporting cast features many familiar faces, although few have prominent roles. K. P. Ummer uses his authoritative voice effectively as the plantation owner, while Ratheesh portrays an earnest police officer who recognizes that there's more to the crime than meets the eye. Janardhanan, for once, has a strong, positive role. The remaining cast members play little more than cameo roles.
MT's screenplay for "Uyarangalil" may seem mild by today's standards, but it was likely groundbreaking four decades ago. I.V. Sasi may have made it more accessible to the general audience, but the core remains unchanged. The climax may appear somewhat contrived, but it's remarkable for the absence of repentance. "Uyarangalil" is Jayarajan's story, and there's only one hero in it, even though he's far from being a traditional hero.
Film: Aksharangal (Alphabets) (1984)
Cast: Mammootty, Seema, Suhasini, Bharat Gopi
Director: I.V. Sasi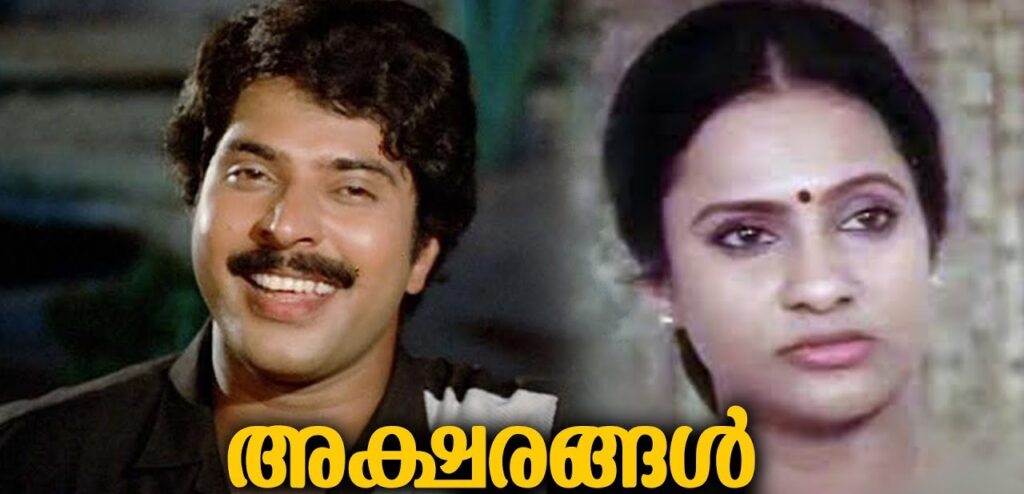 Writing is a highly personal endeavor. Even when crafting a science-fiction narrative about five-legged creatures communicating through telepathy, the author inevitably infuses a personal touch into the story. Stories about writers might be considered the zenith of narcissism, yet such narratives abound.
Jayadevan (Mammootty) stands as one of the preeminent writers in Malayalam literature. He has earned every accolade within his reach and commands the unwavering adoration of thousands of fans. However, his journey to this pinnacle was far from straightforward. Through a series of flashbacks, we witness Jayadevan's ascent from obscurity, his subsequent fall from grace, and ultimate redemption. The story unfolds to reveal how the fiery passion burning within the writer left an indelible mark on all those he encountered, including himself.
Jayadevan's discovery came at the hands of a literary giant, V. P. Menon (Gopi), who lavished praise and ceaselessly promoted the young writer, even securing him a job at a newspaper. Menon's sister, Bharathi (Suhasini), also grew fond of Jayadevan. At the time, Jayadevan lived in a modest rented house next to his neighbor, Kumaran (Sankaradi), an aging writer who had fallen on hard times. Kumaran was a widower with two daughters, the elder of whom was Geetha (Seema). Geetha and Jayadevan shared a close friendship. As Jayadevan's stature in the literary world grew, his bond with Bharathi also deepened, despite unspoken feelings harbored by Geetha.
Unsurprisingly, Jayadevan's character receives the most extensive development, and Mammootty adeptly inhabits the role. However, it's far from a one-man show. I would describe it as a three-hander, with Mammooty, Seema, and Suhasini propelling the narrative. While Suhasini's Bharathi might be the least explored of the main characters, she demonstrates her considerable acting prowess, particularly in a pivotal outburst. Seema, whom I may have previously underestimated, shines in this role. Her earlier characters might not have been particularly memorable, often within her husband's (I.V. Sasi) films, but through this journey, it's evident how effortlessly she could bring out the ordinary and the familiar.
The supporting cast on this cinematic assembly line effectively plays their parts. Gopi may not have a role commensurate with his stature, but Sankaradi and Janardhanan readily excel in roles that diverge from their comedic wheelhouse.
"Aksharangal" is not merely about the words formed by the alphabet; it delves deeper into the threads connecting the creator. The writer is neither a mere puppet nor the puppeteer. It remains uncertain to what extent MT draws inspiration from his own life, but there are sufficient elements to make the narrative feel authentic. Nevertheless, one cannot help but sense that this work leans more toward melodrama than a profound exploration of a writer's life.
Film: Adiyozhukkukal (Under Currents) (1984)
Cast: Mammootty, Mohanlal, Seema, Rahman, Vincent
Director: I.V. Sasi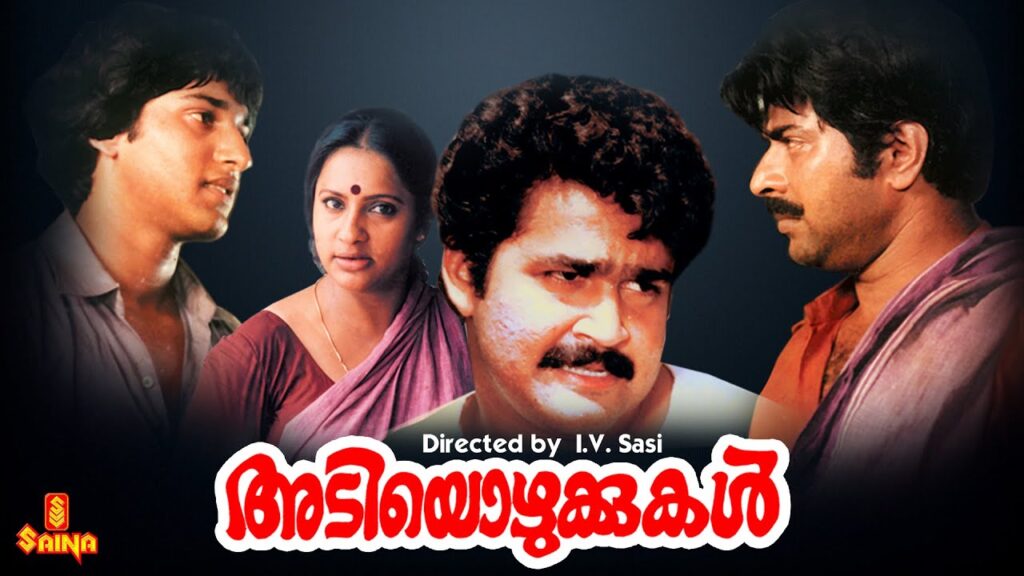 The small, crowded ferry chugged across the backwaters. Shots of the passengers reveal the three main characters, yet they appear to be strangers to one another. However, they all disembark at the same destination. Has their journey concluded, or is it just commencing?
Karunan (Mammootty) is returning to his hometown after a five-year incarceration. Gopi (Mohanlal) is on a quest to locate an agent who promised him a job in the Gulf and absconded with his money. Devayani (Seema) is coming to live with her sister and brother-in-law. None of them discover what they had anticipated.
Karunan had been imprisoned while protecting his friend Kumaran (Vincent). During his incarceration, Kumaran seized Karunan's boat, married his girlfriend Madhavi (Menaka), and amassed wealth as a businessman. Gopi realizes he has been swindled and now must secure employment to support his family. Devayani, to her dismay, uncovers her sister and brother-in-law's questionable activities. These three individuals find themselves in unfamiliar territory, and their paths converge.
"Adiyozhukkukal" is more a product of I.V. Sasi's directorial style than an MT script. It leans toward commercial drama, featuring a revenge plot, a love triangle, and traces of social commentary. The film's pacing is uneven, with some character development in the beginning, revealing more about the characters through flashbacks and their own words. The middle segment is somewhat frustrating, as much of the content does not significantly advance the plot. The third act feels rushed, making it challenging for the audience to keep up. Nevertheless, the movie incorporates enough commercial elements to maintain viewer engagement.
For decades, I retained a vivid memory of a fight scene from a movie. It unfolds in a bar where Mohanlal is busy dispatching the antagonists. Mammootty sits quietly in a corner, sipping his drink, avoiding the falling bodies and furniture. He refrains from getting involved in the action until a man draws a knife and approaches Mohanlal from behind. Then Mammootty intervenes, stating, "That is not something a man would do," or something to that effect. This scene remained ingrained in my memory, while the rest of the film eluded my recall. But the scene matched my recollection precisely.
In contrast to "Aksharangal," this film serves as a Mammooty showcase. He takes center stage, with the other actors providing supporting roles. His performance does not strike a false note, but it may not be counted among his best purely due to the many standout performances he has delivered. Mohanlal, known for portraying the common man throughout his career, follows the same path here. It's a missed opportunity for fans to witness the two icons going head to head. Seema is, as always, efficient. The numerous familiar faces seamlessly perform their cameos. Rahman surprises as Chandran, a character resembling a younger sibling to Karunan.
"Adiyozhukkukal" boasts a captivating title. Most of the action unfolds around the Cochin harbor and its adjacent areas, where undercurrents can be perceived in both literal and metaphorical senses. However, beyond that, a discerning viewer may wish for more depth beneath the surface.
For more articles by this author click here