The sopanam musician's birthplace Ramamangalam has a unique cultural heritage that is filled with music and rhythm.
Among the music festivals of Kerala, Shatkala Govinda Marar Sangeethotsavam is especially noteworthy for the venue of its conduct viz. Ramamangalam. A remote hamlet in Ernakulum district situated on the idyllic banks of Moovattupuzha River has turned a pilgrim centre for artistes of all hues across the country over the years. For, it is the birthplace of the legendary musician Shatkala Govinda Marar, a contemporary of the Trinity and Maharaja Swatithirunal, who was the only Keralaite to sing in front of Thyagaraja.
Not many are the instances in the history when some cultural and political leaders endowed with exceptional farsightednesses have been instrumental for laying foundation for projects for keeping our hoary tradition alive. The above mentioned festival owes much to such two stalwarts – one, Prof M P Manmadhan and two, former minister T M Jacob.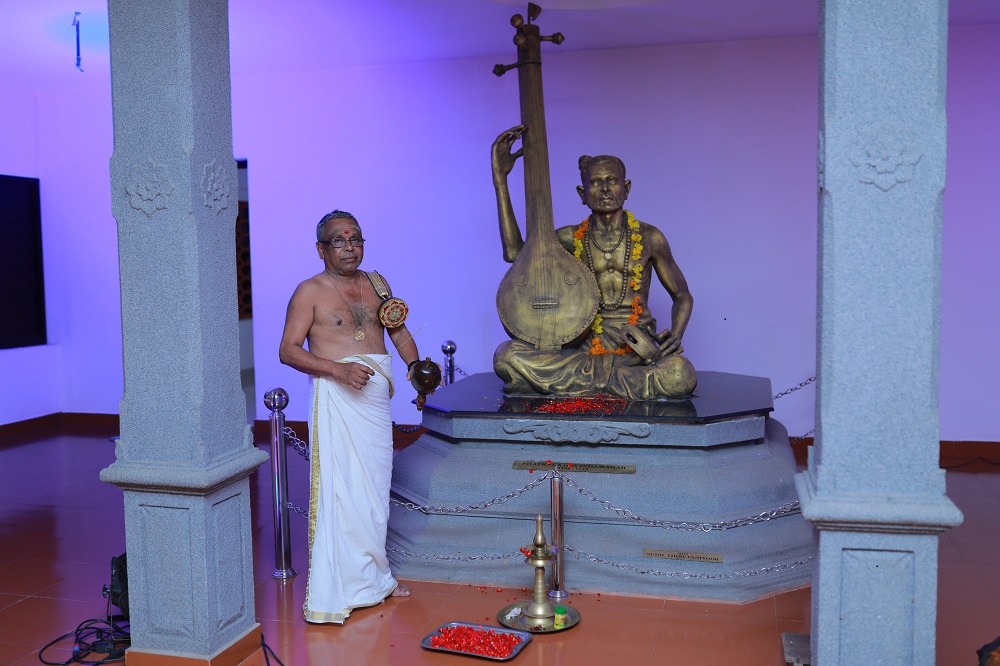 It was a reference to Shatkala Govinda Marar in Ulloor S Parameswara Iyer's speech in Thiruvananthapuram that inspired Prof Manmadhan to establish a memorial at Ramamangalam in 1980. The institution, named as Shatkala Govinda Marar Smaraka Kala Samithy, fretted and fumed for lack of funds until the temple at Ramamangalam donated ten cents of land for raising a building. Incidentally, it was the same temple where Govinda Marar used to present 'kottippadi seva' during his stay in Ramamangalam.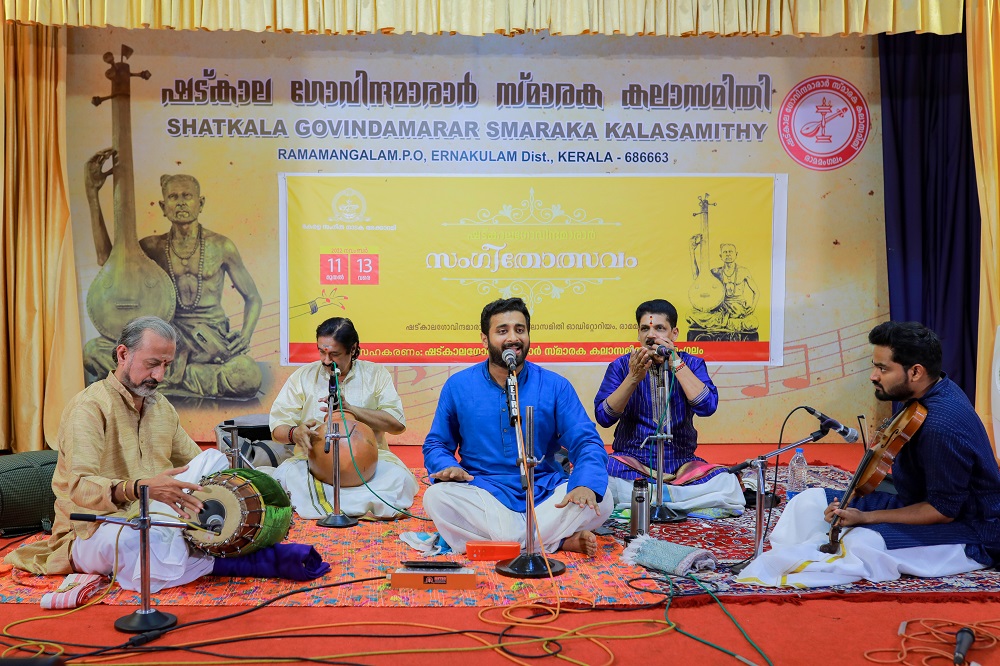 Years later in 1993, it dawned on the minister T M Jacob to begin a festival to perpetuate the legendary musician's name. Jacob, who was the first minister for culture as an independent department, was wise enough to entrust the conduct of the festival annually to Kerala Sangeetha Nataka Akademi. Shatkala Govinda Marar Smaraka Kala Samithy hosts the festival every year. Not many who attended the festival this year on November 11, 12 and 13 had realised that this edition was the 30th in series.
Melody and beats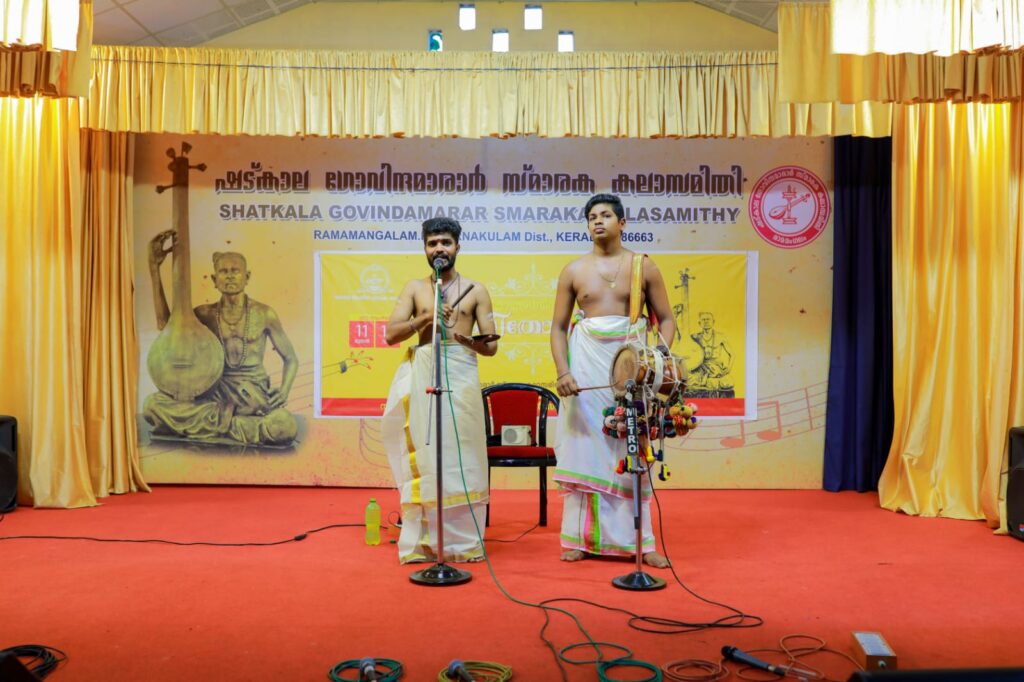 A village that still retains the intrinsic virtues of a typical village, Ramamangalam has a cultural heritage that is very unique. Widely known for Sopana Sangeetham– the Ramamangalam style of Sopana Sangeetham is very sweet – and the esoteric Kerala art of percussion it can boast of a host of artistes who were well known for their artistic dexterity. Kadavetoor Narayana Marar, a scion in the family of Govinda Marar and Thrikkampuram Krishnankutty Marar, an acclaimed authority of the unique art forms of the village were the last among them.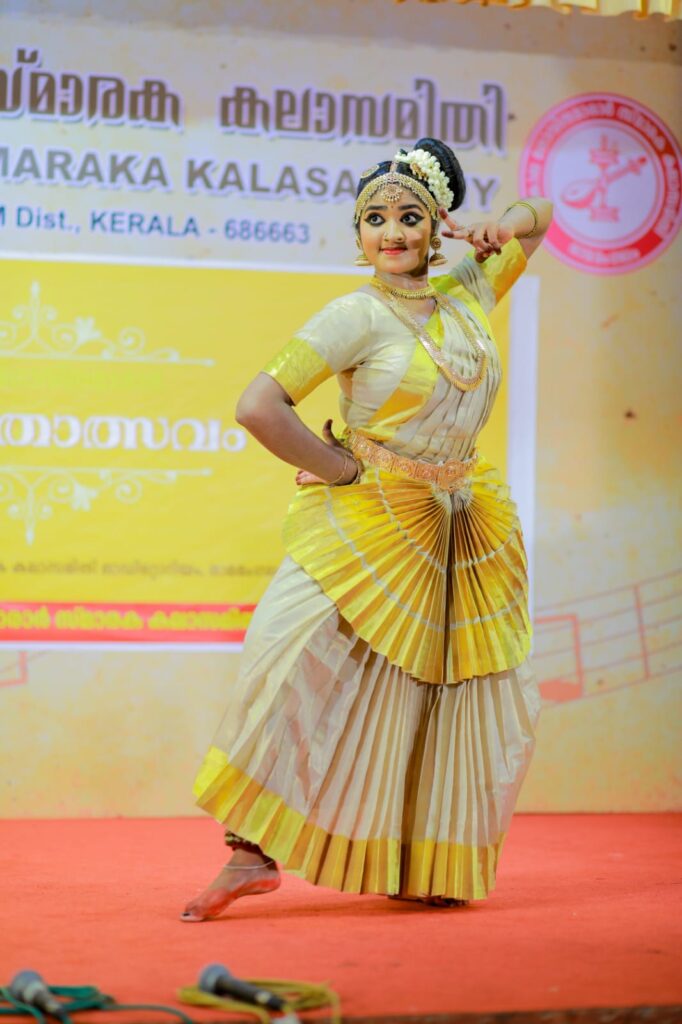 'Parisha Vadyam', a precursor of the present Panchavadyam was born here. Interestingly, the ensemble had 'Veekkan chenda' in lieu of maddalam used in Panchavadyam nowadays. 'Kudukka vina', a single string instrument fabricated with coconut shells, was popular years ago. It is basically a simulator of edakka, the musico-percussion instrument used as an accompaniment to Sopana Sangeetham, is a contribution of this village. Its role is similar to 'pulimutti' for chenda and 'sravanappalaka' for maddalam. Moreover, the components with which it is fabricated smack of the rusticity of the instrument.
While Krishnankutty Marar was instrumental in reviving the instrument about half-a- century ago, his predecessors who could play on this instrument were Vadakkedath Appu Marar and Thazhathedath Govinda Marar. But the credit for introducing the instrument on the concert stage goes to Krishnankutty Marar. Accompanied by violin and mridangam, he presented Kudukka Vina concerts across Kerala. The Mridangam exponent Umayalpuram Sivaraman was so much impressed by the instrument that once he requested the president of the Samithy to send an artiste of Kudukka Vina to Chennai to be presented in the Music Academy. "I will play myself mridangam for the concert", he had promised. For popularizing the near-extinct instrument, the Samithy had organised a three-day workshop in January 2015 supported by the Central Department of Culture that attracted many young artistes.
Engaging performances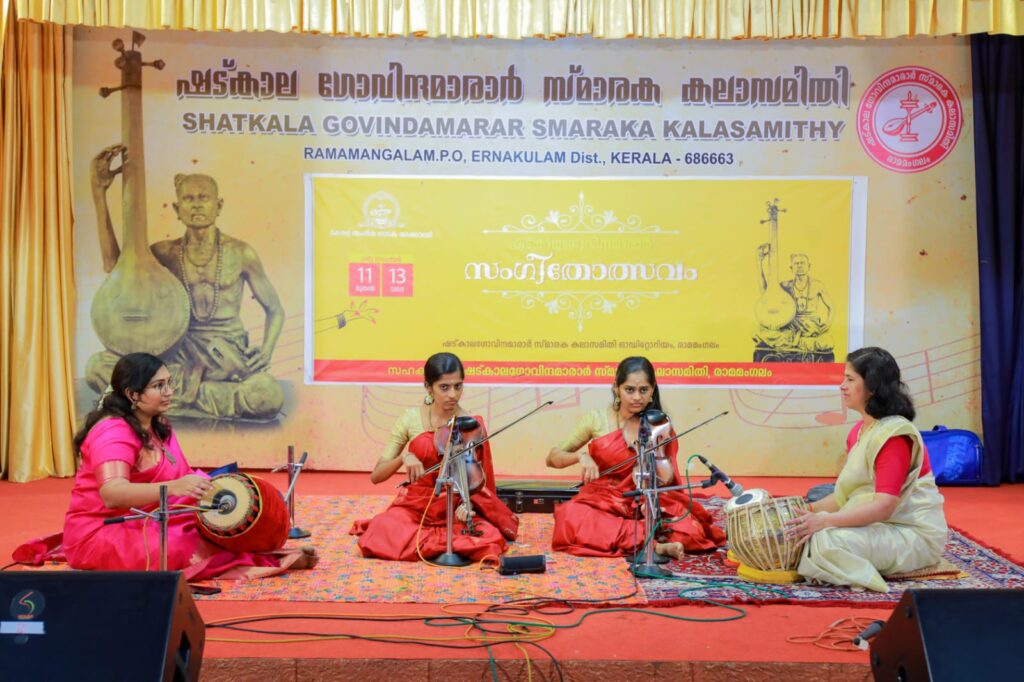 As for this year's festival, it could rightly be described as an exposition of young talents. The three day festival kick started with a Keli followed by Trikkamburam Jayan's Sopanasangeetham. Mattannur Sreeraj Marar's Thayambaka enthralled by the audience on the first day. Music director Berny presented a singing show Pakarnnum paranjum paadiyum which was very well received.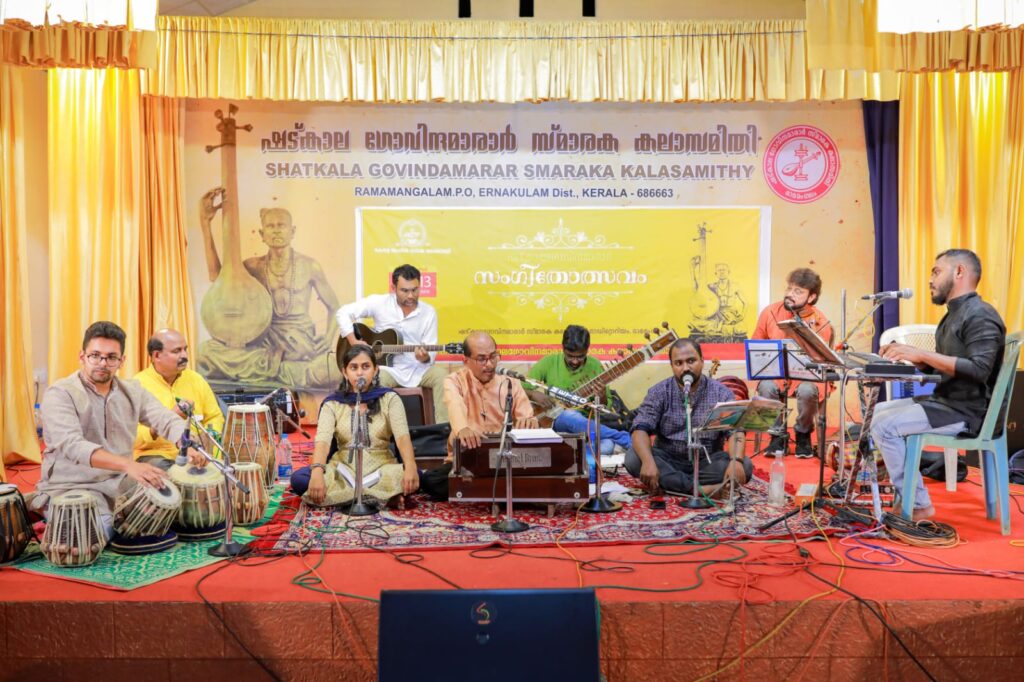 Young musician Vivek Moozhikulam's vocal concert on the second day was very mature far beyond his years. A recipient of Chembai Sangeetha Puraskaram by Kerala government for bright young vocalists below 30, Vivek opened the concert with Kalyani varnam and went on to sing Muthuswami Dikshitar's popular composition Swaminatha Paripalaya in Natta ragam. This was followed by one of Thyagaraja's most famous compositions Entharo Mahanubhavulu in Srirangam that the saint composer asked his disciples to sing for Shatkala Govinda Marar. Papanasam Sivan's composition Kavava was followed by a detailed alapana of Charukesi. Swathi tirunnal's composition Kripaya paalaya shoure was a real treat. Madan Mohan ably assisted him on violin. Thyagaraja composition Mohana Rama, was the song of the evening followed by a thunderous thaniavarthanam by veteran mridangist K V Prasad, ghatam exponent Tripunithura Radhakrishnan and Payyannur Govindaprasad on Morsing.
Earlier in the day, an all-women Carnatic ensemble captivated the audience. Emerging violinists Aryadutta and Priyadutta were accompanied by Kerala Sangeetha Nataka Akademi award winner Retnasree Iyer on Tabala and Charu Hariharan on Mridangam. The young sisters explored the evergreen raga Kharaharapriya which is known for its symmetrical tetrachords in its scale. Swathi composition Sathatham Tavaka in Adi was the main piece of the concert. Sagarashayanavibhao a composition by MD Ramanathan captured all the essence of Bageshree. Jalajabandho in Suruti and Bandureeti in Hamsanadam were also featured. There was a sopanam recital of Akhil Punorcode and a Mohiniyattam performance by Kalamandalam Anjalai on the second day of the fest.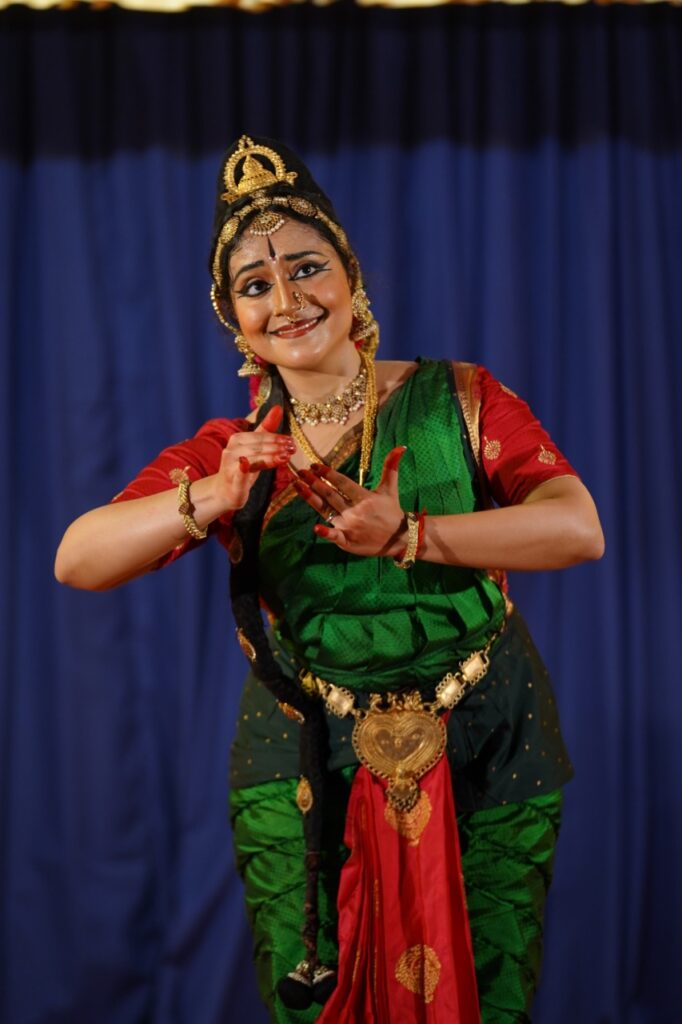 Kuchipudi dancer Prateeksha Kashi's dazzling performance mesmerised the audience on the third day. Daughter and disciple of guru Vyjayanthi Kashi, whose name is synonymous with Kuchipudi, Pratheeksha's performance was widely appreciated for its liveliness and angasudhi. The recital started with a poorvarnaga vidhi that was followed by Sringaralahari composition in Neelambari ragam depicting Devi the embodiment of beauty and power. Known for her spontaneity, Pratheeshaka's, next item, a Shabdam described the greatness of King Krishnadeva Raya, third ruler of the Tuluva Dynasty and of the glorious Vijayanagara Empire, harmonised angika and satwikabhinayas.
A poet by himself the king had a fondness for dance, music and arts. In Lalitha lavanga, an Ashtapadi in ragam  Basant Bahar composed by guru Vyjayanthi Kashi, Pratheeksha transformed herself into a love-struck Radha,  who is desperately looking for Krishna. The flawless presentation of Tarangam, a special number in Kuchipudi kept the audience engaged.  The dancer's keenness to connect with the audience and her expertise in lasya was well highlighted in the final Thulasidas bhajan.