A maven in Mohiniyattam research, mentorship, and choreography, her trajectory stands as a testament to dedication and determination.
In the realm of India's performing arts, the Sangeet Natak Akademi Award stands as the pinnacle of recognition, typically bestowed upon recipients by the President of India during an esteemed ceremony in New Delhi. However, history was made when Guru Nirmala Paniker was presented with this prestigious award by Joravarsinh Jadav, Vice-chairman of the Sangeet Natak Akademi, at a recent ceremony held at Natanakairali, Irinjalakkuda, Trissur.
The general council of the Akademi honored 128 eminent artists across various fields, including music, dance, theatre, traditional and folk arts, puppetry, and overall contribution to the performing arts for the years 2019, 2020 and 2021 early this year. To her exceptional contributions, Paniker, a luminary in the world of Mohiniyattam, received this accolade for the year 2019. This momentous occasion marked a historic departure from the tradition of the award being presented in the nation's capital.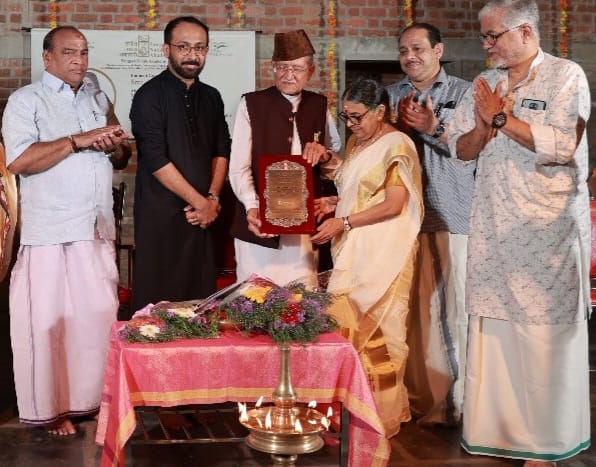 Artistic odyssey
Paniker's illustrious career has spanned decades, encompassing roles as a danseuse, choreographer, and dedicated researcher. Her journey began with rigorous training in Bharatanatyam at R L V Academy, where she graduated with first-class honors. However, it was under the tutelage of Kalamandalam Kalyanikutty Amma, her mentor and guru in Mohiniyattam, that she honed her skills and transformed into a consummate performer. Additionally, training under Kalamandalam Sathyabhama, the chief architect of the Kalamandalam style, enriched her artistic repertoire.
Paniker's tenure as a teacher at the Lawrence School, Lovedale, provided her with a unique perspective, allowing her to delve deeply into the nuances of the dance form. Her exposure to temple rituals and indigenous art forms during her childhood in Piravam, a place renowned for its cultural diversity, played a pivotal role in her quest to trace the roots of Mohiniyattam to these traditional art forms.
She firmly believes that Mohiniyattam can be enriched by drawing extensively from these local traditions. Her perspective challenges the conventional wisdom of Natyashastra's relevance to Mohiniyattam, asserting that texts like 'Balaramabharatham' and 'Hasthalakshanadeepika' hold greater significance for the dance form.
With this vision in mind, Nirmala Paniker established 'Natanakaisiki,' the dance research and training wing of 'Natanakairali,' in 2000. 'Natanakaisiki' serves as a platform for imparting intensive training to individuals passionate about pursuing Mohiniyattam as a serious discipline. Inspired by the abhinaya traditions of Kerala and incorporating elements from other female dance forms such as Tiruvathirakkali and Nangiarkoothu, Paniker established a distinct desi style Mohiniyattam deeply rooted in Kerala's cultural, musical, literary, and theatrical traditions. Natanakaisiki's significant achievement lies in its revival of forgotten traditional performances such as Esal, Poli, Chandanam, and Mukkuthi, contributing to the renaissance of Mohiniyattam in recent years.
A researcher par excellence
Aside from her noteworthy stage performances, Nirmala Paniker has made significant contributions to her field through extensive research. She has presented numerous research papers at both national and international forums, including the prestigious World Theatre Project. Amongst Mohiniyattam gurus, she stands out for her authorship of nine books related to dance, which include comprehensive monographs on 'Nangiarkoothu' and 'Mohiniyattam, the Lyrical Dance.' Her meticulous research-oriented column on Mohiniyattam, titled "The Occult Origins of Mohiniyattam," currently serialized in India Art Review, marks a pioneering effort in shedding light on the dance form's evolution and its contemporary context.
The Sangeet Natak Akademi Award ceremony was graced by eminent personalities such as Mattannur Sankarankutty Marar, Chairman of Kerala Sangeetha Nataka Akademi, Dr. M V Narayanan, Vice Chancellor of Kerala Kalamandalam Deemed University, Mohammed Hanish, Principal Secretary of Health and Industries, Government of Kerala, Aneish P Rajan, Director (Academics) of the Ministry of Culture, Government of India, Aishwarya Dongre, SP of Trissur Rural, Suja Sanjeev Kumar, Chairperson of Irinjalakuda Municipal Corporation, and Vayalar Sarath Chandra Varma, Member of SNA.
Dr. M V Narayanan commended Nirmala Paniker's remarkable dedication to Mohiniyattam, emphasizing her role as not just a guru and choreographer but also a dedicated researcher. He highlighted the challenges inherent in performance research and the difficulty of preserving its authenticity and cultural context as it evolves through time and space.
Nirmala Paniker's profound influence on Mohiniyattam has etched an enduring legacy within this venerable classical dance genre. She remains a beacon of inspiration, nurturing and advancing the art form through her dedicated pupils. The award ceremony reached its zenith with a captivating Mohiniyattam performance by her accomplished students—Kapila Venu, Hridya Haridas, and Kalyani Menon Harikrishnan—wherein the inherent beauty and timeless allure of the desi style of the lyrical dance were exquisitely showcased.