Reviving Poli: Exploring the Rich Tradition of Mother Goddess Worship in Kerala
Mother goddess worship was prevalent in ancient Kerala. Many art forms in Kerala evolved from traditional and ritualistic practices associated with the worship of the mother goddess. Often, the performing arts of Kerala are closely tied to the main harvest seasons. For instance, Onam, the primary festival of Kerala, falls at the end of the monsoon season, following the harvest of the first paddy crop of the year. During this season, various art forms are performed, including Theyyam, Mudiyettu, Poothan, and Thira, all of which still exist and maintain strong connections with the worship of the mother goddess. In every village, sacred forests (Kavu) were preserved in reverence of 'Amma' or mother goddesses in forms such as Kali, Neeli, and Karumari. Ancient regional dance forms, known as 'desi,' were performed to extol these mother goddesses.
Performing traditions typically commence with an invocation piece that praises the mother goddess with the intention of bringing happiness and peace to the audience. This principle equally applies to present-day Mohiniyattam, where an invocation item called Cholkettu is performed. Cholkkettu often begins with a short shlokam in praise of the mother goddess Parvati. The desi item known as Poli, which we reintroduced in Natanakaisiki, is an invocation dance that pays homage to the mother goddess in various forms like Kali, Neeli, and Karumari. The dancer venerates the mother goddess who dances in cremation grounds with her Vattaka, the sickle-shaped weapon, and sword. Through this dance, the performer seeks blessings for all, including humans on Earth, the heavens above, and the inhabitants of the underworld.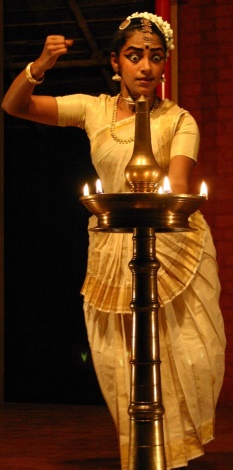 Such desi items in Mohiniyattam were performed until the early 20th century. Similar songs praising the mother goddess can still be witnessed in performances like Theyyam. Given these aspects and the inherent beauty of the Poli song, we resurrected the Poli dance in Natanakaisiki a few decades ago.
The revived Poli
The term "Poli" is an ancient colloquial word from Kerala. There is no English word that can precisely translate and convey the profound meaning of this beautiful term; however, words like "flourish," "abundance," "increase," and "grow" come close.
I crafted a choreography in Mohiniyattam, "Poli," aimed at venerating the Mother Goddess. The lyrics within this composition earnestly entreat the Goddess to flourish, bestow her blessings upon the universe, and invoke her various aspects such as Kali, the goddess of time; Neeli, the one with dark black tresses; Rudra, the protector; and Karumari, the goddess who heals. Within the context of this performance, the Goddess is beseeched to bless the entire universe and extend her radiance to the heavens, the netherworld, the Earth, and within every human or jeevatma. The dancer, portraying a devoted worshipper, seeks blessings from this mighty Universal Mother and pays her humble obeisance.
This composition is set in the Paadi ragam and follows the Aadhi Talam.