Choreography centered around river Ganga in Prayanam.
Dance productions during the post-Covid period have been very few and far between. For the same reason, Prayanam, a Mohiniyattam production staged recently in Thrissur stood out. Choreographed by Kalamandalam Sheena Sunil, the one-hour performance centered around the holy river Ganga.
Sheena's choreography was anchored on three compelling stories connecting the heavenly river to Earth. The first legend, on the very genesis of the river tells us that Ganga is the daughter of Brahma, who collected water from Vishnu's feet after the Vamana (incarnation of Vishnu) – Mahabali incident, and this became the Ganga.
The second one depicts the circumstances that led to the Shanthanu – Ganga union. Throwing of the seven children born to them into river and the eighth one being trained in all vidyas who was Bishma are presented quite dramatically.
The Bhagiratha story of bringing Ganga to earth gets only a passing reference. Sheena attributes this to the popularity of the event.
Environmental message
The choreography is praiseworthy as it has been successful in bringing in nritta of the dance form in full. Plurality of adavus and their symbiotic execution to the corresponding jatis appeared made it appealing. This was evident right from the very entry of the five dancers for invoking Ganga. Interestingly, this part ends with the presentation of Ganga with her entire splendor which is a visual treat. That the entire show also winds up with this formation was commendable.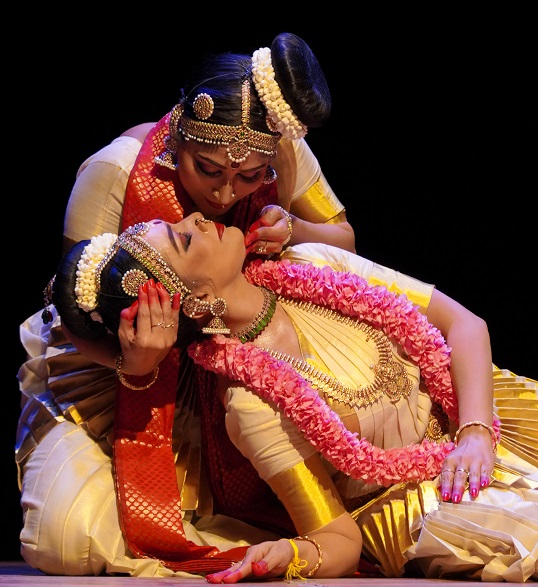 Sheena's choreographic skill was also evident from the romantic overtures between Santhanu and Ganga. The show concludes with the message that all of us shall try to be Bhagiratha thereby underscoring the importance of keeping the heavenly river clean.
As for the message that is of contemporary relevance, one felt this part could have been elaborated more. For, using a classical dance to highlight the environmental pollution is rare and needs to be appreciated.
As for the abhinaya part, all the dancers including Sheena (Ganga) leave a lasting impression. Others included Kalamandalam Jayshree Harikrishnan(Shantanu), Vinitha Thankaraj (Brahma) and Renisha Roy (Vamana) and Kalamandalam Monisha.
Scripted by Kalamandalam Ganeshan, music has been scored and rendered by Bhagyalakshmi, which is delectable. Commendable was the accompaniment by the team including Vayala Rajendran (violin), Kalamandalam Harikrishnan (mridangam), Thrissur Murali Krishnan (vina), Sreejith Kammath (Flute), Arundas (Edakka, Maddalam,and Chenda). Lighting by Muralidharan Thayyil deserves special mention as it contributed considerably for the success of the show.