The second season of Advaitam series provides an opportunity for young Carnatic instrumentalists to play along with the vocalist and win exciting cash prizes.
Carnatic vocalist's Sikkil Gurucharan's Advaitam series explores in-depth the communication between an instrument and the vocal in a Carnatic concert. The first season of the Advaitam series was released on Sarvamangala Productions' YouTube channel during Navaratri season; it consisted of five episodes. Artists such as B.S. Purushotham (kanjira), N Ananthanarayanan (veena), Mylai Karthikeyan (nagaswaram), H Vishwas (Mandolin) and Vedanth Bharadwaj on Banjo guitar were featured in each episode along with Gurucharan on the vocal.
Following the success of season one, Gurucharan is coming up with the second season, but with a difference. The second season is a competition for young and upcoming instrumentalists. The participants have to make a five-minute video of playing their instrument and have to mail it to Sarvamangala . The judges will shortlist 15 participants out of the total entries. Each of the 15 participants will get an opportunity to play with Sikkil virtually and will be featured in Sarvamangala's YouTube Channel. Out of this, the top three participants will be awarded a cash prize. The winner will get Rs 10000.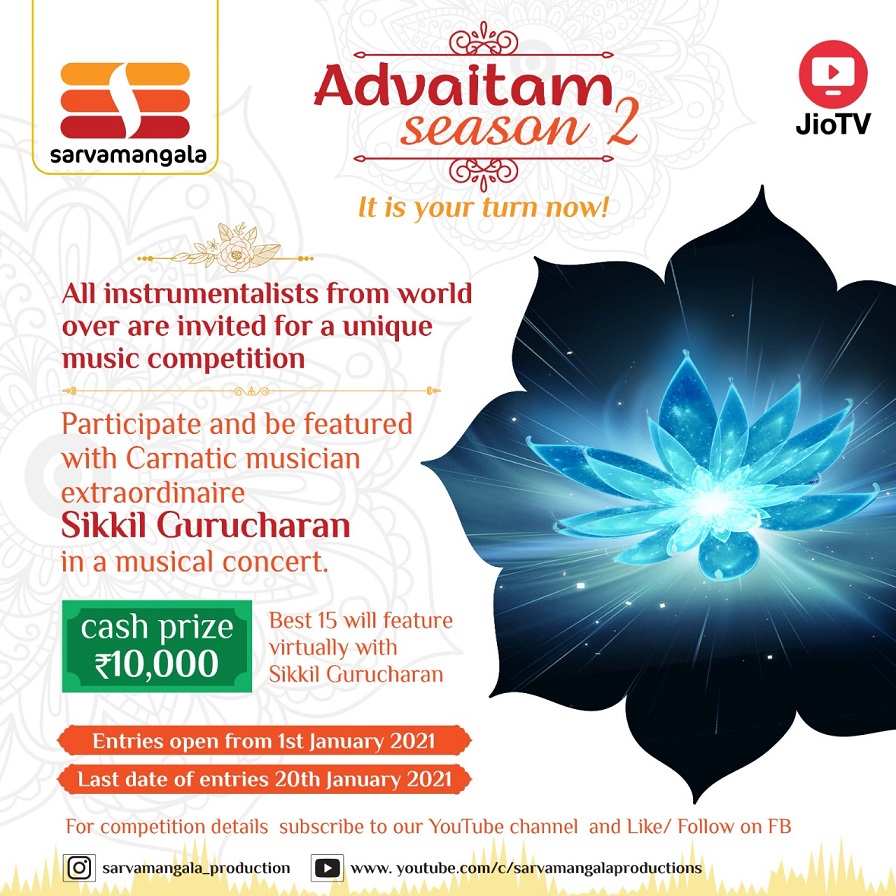 "Several dialogues happen during a concert. Discourses between violin and vocal, mridangam and ghatam, vocal and mridangam and so on. The whole concert is full of these moments and the audience enjoys this communication," says Gurucharan. Advaitam was conceived around this idea.
Season one was very well received and we got very good feedback from our audience "Playing along with vocals is a learning curve for instrumentalists. So, this time we thought of making it in a competitive spirit," sums up Gurucharan.