Talamaddale, a close cousin of Yakshagana, isn't bound by the nature of the state and doesn't need a script. Will the flexibility continue to keep this art form?
The coastal belt of Karnataka is rich in culture and one can sense the pride people here feel about its unique ethnic and cultural identity. This region is renowned for its varied linguistic and ritualistic performance traditions.
Among these, it is Yakshagana, an ancient form of a theatrical dance performance of coastal Karnataka, which stands at the top of the list. Yakshagana is recognized as the soul of Karnataka's artistic tradition and is almost synonymous with the state's cultural identity. This celestial dance form still receives high patronage, especially from the coastal and Malanadu regions in the State. Considering Karnataka shares its borders with Kerala, we can find that Yakshagana is also performed in some areas of Kasaragod district in Kerala.
By bringing together audiences and artistes from different cultures and backgrounds, Yakshagana promotes secularism, social and communal harmony. People, irrespective of religion, caste, and gender, participate in this event not only as homage to the art itself and the divine worship but also as a medium of entertainment. Having said that, the wide popularity of Yakshagana has sidelined some of the other traditional performance forms of southern Karnataka. One such traditional performing art is Talamaddale which can be interpreted as a close cousin of Yakshagana.
An unscripted format
Talamaddale is an art of oration. It is a verbal form of story narration, where the singers sing the songs taken from the Yakshagana text and the orators present the prose in a particular pattern (the Yakshagana pattern of conversation).
Talamaddale literally means tala and maddale translating to two folk percussion instruments cymbal and a double-sided drum resembling a mridangam. The name signifies that it is an art of rhythm. A play of Talamaddale involves the art of music, percussion and spontaneous delivery of dialogues and arguments. The texts of Talamaddale are known as Prasangas, taken from Yakshaganaliterature. Those parts are carefully selected based on the scope for visual narration through words.
The story-telling culture
The origin of this art form has not yet been traced to a particular year, but it is generally believed to have originated in a span of not less than 500 years. Scholars suggest that the tradition emerged as a form of entertainment mixed with information meant to disseminate knowledge and values among local people.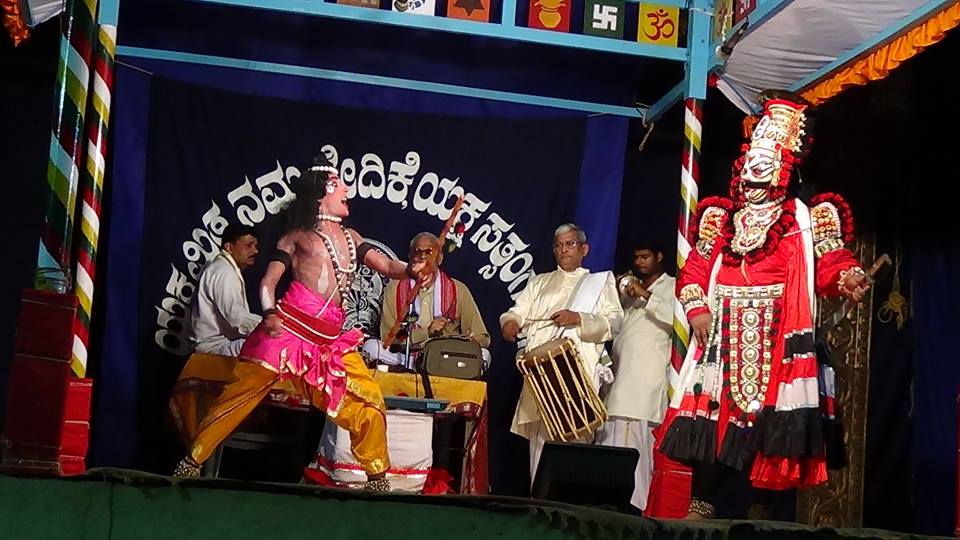 Yakshagana performers, Kannada language scholars and Sanskrit scholars found that the significance of the story-telling culture would foster in overall development of the communities. Thus, they began to organize simple form of oral presentations of Yakshagana known as 'prasangas' in local temple premises and community gatherings. In rural areas, monsoon tends to be the 'off-season' for entertainment for the lack of a permanent structures for plays and other forms of entertainment. Yakshagana artistes, too, didn't have much work. Since it is conducted in an open stage, Yakshaganabayalattas(or plays) during the rainy season used to be a rare sight.
In order to enhance their skills, utilise the idle time and also with a motive to keep the society entertained and informed, Talamaddale became the new way of entertainment.
Mythologies and interpretations
Talamaddale is a verbal play form where the artists engage the audience by narrating the legendary and mythological stories from the 'Puranas' along with its interpretations. Gradually, this form of presentation received wider reach, gaining popularity and appreciation from the audience.
Since the same songs are used both in Yakshagana and Talamaddale and have similar performing patterns, same artistes perform both on different occasions. However, more efforts on codification and innovatory experiments gained momentum from the part of performers and reformers for Yakshagana.
Gradually, Talamaddale attained a status of an independent art form and began to perform during every season. Educated and scholarly people from the upper class, Kannada pundits and senior Yakshagana artistes were the early promoters of this art form. They used the stories from puranas as the base for performance and added spontaneous arguments to make the play attractive and persuasive. Talamaddale is mostly performed as a freelance art or as a hobby rather than carrying on regular professional troupes.
The method and the mode
There is a particular order in which a Talamaddale performance is executed. For instance, all performances begin with a 'Ganesha Sthuthi', which is a typical feature of other traditional art forms in the region.
The songs are rendered by the Bhagavata (the singer), and the Arthadharis (the orators) start with a piece called 'Peedike' which is an introduction to each character followed by Samvada (dialogue) and Nirupane (narration).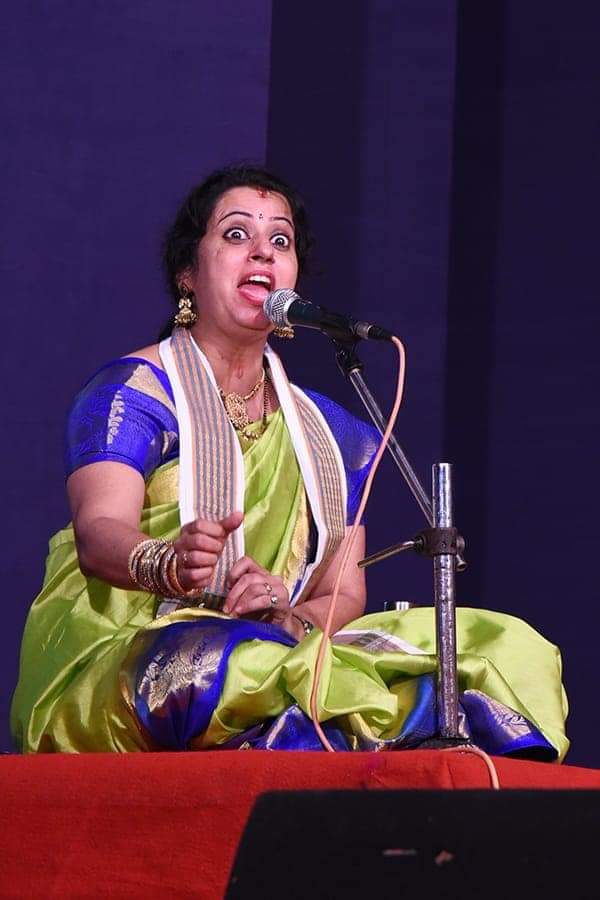 Maddale plays a major role in the presentation, in adding the emotions with the tala patterns and speed, giving transitions between different situations. Bhagavata is the controller of the entire play, who manages time for each part and giving signals to actors to stop one series of arguments and to move into another part.
The rhythm patterns used in Talamaddale are based on the desi talas, and the 'thalanthara' system or the interchange of two talas is another prominent feature of Yakshagana songs and prasangas. Commonly used talas are Tripute, Utapi, Ashta Utapi, Jhampe, etc.
Bringing in a new wave
Popular Talamaddale plays are taken from the Ramayana, Mahabharata, Srimad Bhagavata, and Astha-dasa puranas. Contemporary stories are also used to pen Talamaddale prasangas in recent times. However, the selected verses of poems from other texts and the newly written texts are carefully adapted to Talamaddala based on the possibility to give verbal presentation in 'Yakshagana' pattern.
Early promoters of Taalamaddale from South Karnataka including Sheni Gopalakrishna Bhatt, Perla Krishna Bhatt and Malpe Shankaranarayana Samaga raised the art to a higher aesthetical level from a mere form of storytelling. 
M. Prabhakar Joshi, Balippa Narayana Bhagavatar, Malpe Lakshmi Narayana Samaga, Malpe Ramadas Samaga, Urvve Kodi Subbappa, Malpe Vasudeva Samaga, Thunnambala Vishweshwar Bhatt, Vidwan Umakantha Bhatt, Ganapathi Bhatt, Sarppagala Eshwar Bhatt, Radhakrishna Kalcher, Hareesh Balanthi Ramagaru, Vasudeva Ranga Bhatt are other notable performers and reformers of Taalamaddale.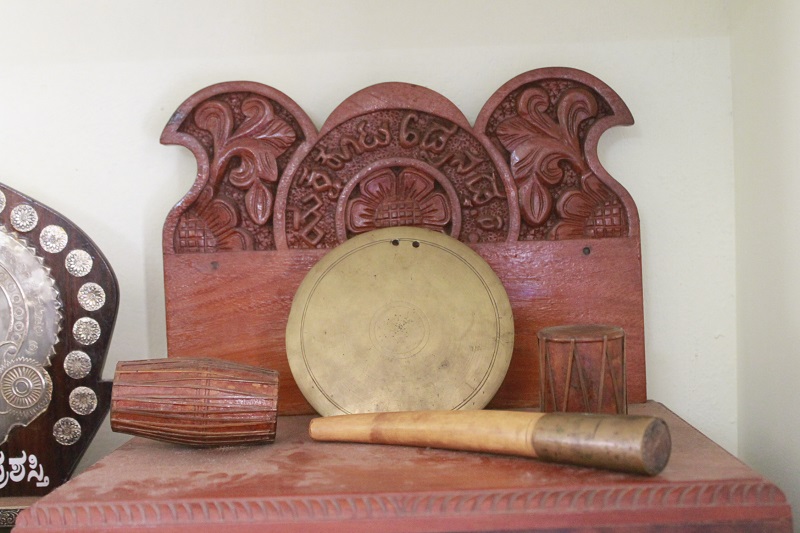 Traditional art forms have always been a male-dominated arena, so much so that even female characters in the 'script' are played by the men. However, a recent development in the field of Talamaddale is the entry of female performers. Recently a group of young female performers began to showcase their expertise in Talamaddale presentation, which is now well accepted by audience and well-wishers.
A few prominent female sanghas (performer's troupe) in Dakshina Kannada include Yaksharadhana Kalakendra, Bheeshakthi mahila Rangamele, Durggamba Mahila Mandali, Yakshasinddora Thalapadi sangha and Anjaneya Mahila sangha. They perform separately in the female-only shows and also in shows alongside male performers.
Padma Acharya, Sumangala Ratnakar, Shubha Adiga, Chhayalakshmi RK, Shreelatha Navada, Sai Suma Navada and Vidya Kollur are some of the notable female performers.
The language and the legacy
Over-popularity of Yakshagana has sidelined Talamaddale as a subsidiary form. At the same time, Yakshagana performers and troupes are the major promoters of Talamaddale. The extra fluent language is the primary requirement, which is lacking among younger generation.
The senior artistes say that the major challenges they identify for preserving the Talamaddale is in transferring the art to younger generation in the pristine form. Additionally, they also fear in losing the tradition and quality of the performance.
Adequate knowledge in philosophy, classical literature, mythology, its contexts and significance in the contemporary society should be imparted to younger minds to improve the performance quality. However, true connoisseurs and art enthusiasts have taken the art with care and devotion.
Unlike other art forms, neither there are any institutions or academy nor any traditional guru-shishya tradition that exists specifically for giving training Talamaddale art form. In contrast, experts in this field argue that there is no need of a special training in Talamaddale prasangas, since Yakshagana artistes are also trained in oration. An enthusiast who observes the plays carefully and having talent in oration can perform Talamaddale. Gurus are the senior artists who give guidelines to the young performers, rather than providing a systematic training. 
Earlier Talamaddale plays were performed only in temple premises or rarely among scholarly groups. To exemplify, the experienced artists tried minor experiments by mixing contemporary situations and adding it with social and developmental messages. Consequently, Talamaddale gained popularity with wider set of audiences, and it also became a part of festival ceremonies and community gatherings. Academic institutions and academies also conduct performances for various occasions.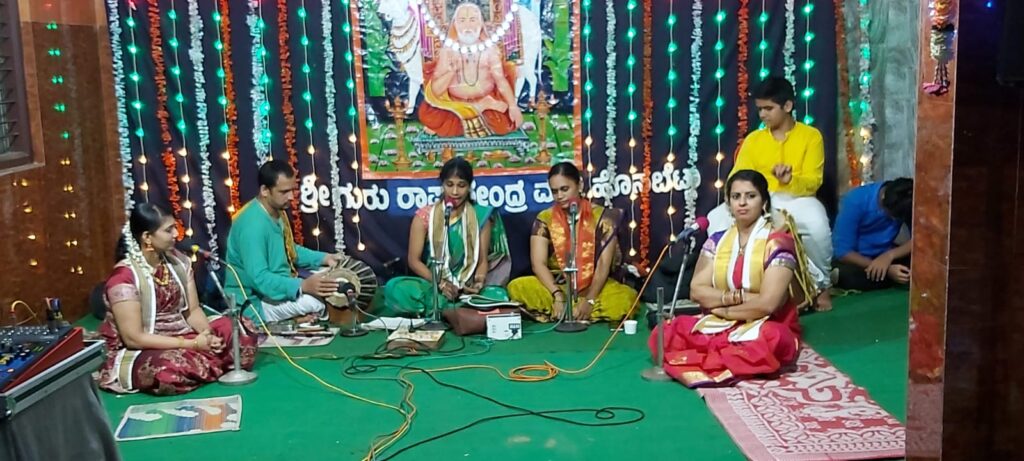 When the Yakshagana artistes are taken outside Karnataka to perform at various stages within India or at international stage, they also give due importance to accommodate to perform Talamaddale as an add-on to manage the time effectively at the stage, thereby entertaining and engaging the audience. Truth be told, exclusive promotion for Talamaddale is infrequent among connoisseurs and cultural societies in India and abroad.
Organizing a Talamaddale performance is less expensive than the cost of organizing Yakshagana or any other dance forms. Talamaddale can be performed indoors, closed auditoriums/ rooms or even open-air stages. This art form has been identified as a strong carrier of culture and a vehicle of developmental and motivational messages. This prospective is spotlighted among the promoters of traditional arts. Thus, Talamaddale has immense opportunity to enlighten the connoisseurs and cultural fraternities.
Feasibility to record, flexibility in performing according to the circumstances and audiences (in terms of delivering spontaneous messages and arguments) manifest the greater scope to take the art beyond the borders.
With inputs from Sumangala Rao, ML Samaga and Balippa Narayana Bhagavathar