In an unprecedented gesture, the global theatre community is coming together to extend support to the Indian theatre community devastated by Covid 19
'A HowlRound for India: A 24-hour marathon of COVID-19 talks with the global theatre community' will take place on 20th – 21st July 2021. The event starting from 6.30 p.m. IST on July 20, 2021, will line up over 100 artistes from 30 countries who will spotlight the devastating effect of Covid-19 in India, and highlight the important work theatre makers around the world have done through the pandemic as artists, relief workers, dissenters, and survivors.
Presented by Martin E. Segal Theater Center, the event will be live streaming on the global, commons-based, peer-produced HowlRound TV network at howlround. tv from Tuesday 20 July to Wednesday 21 July at 6 a.m. PDT (San Francisco, UTC -7) / 9 a.m. EDT (New York, UTC -4) / 13:00 UTC / 2 p.m. BST (UTC +1) / 6:30 p.m. BST (Bengaluru, UTC +5:30). This free virtual event will be available on HowlRound Theatre Commons,
This 24 hours online Marathon of live readings and talks honouring the Indian theatre community for its efforts in facing Covid 19 will call loudly and urgently for India and the rest of the world to find better political solutions to prevent such disasters.
Organized by Frank Hentschker, Director of CUNY's Segal Theatre Center; Abhishek Majumdar, a playwright/director from Bangalore, India; and Mumbai-based director/producer Tanvi Shah, This non-stop conversation will also offer a space for theatre artists in their myriad capacities as creators, citizens, activists, caregivers, and witnesses to reflect on their personal and political experiences of this global crisis, and share related readings or performances. These artistic responses will pay tribute to the tragic losses borne by the artist community during the pandemic.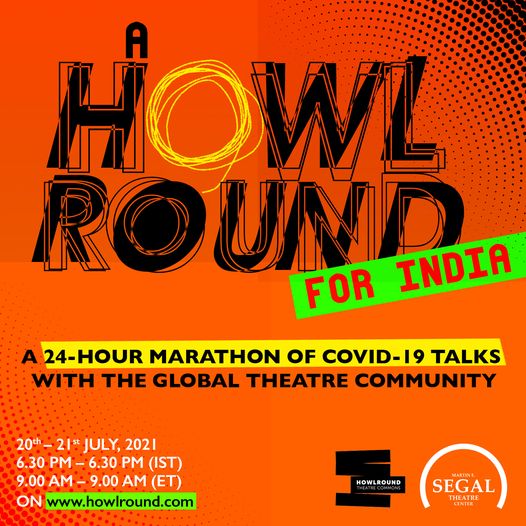 While the event will primarily be hosted in English, presenters are invited to speak in any language of their choosing. Their segments will be live translated into English.
This free virtual event can be accessed at all times during its 24-hour duration on the HowlRound Theatre Commons website
U.S. participants in "A HowlRound for India" will include (as of this writing) Anne Bogart, Rachel Cooper, Philip Howze, Carol Martin, Maude Mitchell, Manuel Moran, Carey Perloff, Paulette Richards, Carl Hancock Rux, Richard Schechner, Peter Schumann, James Scruggs, Tom Walker and Tamilla Woodard. Noted ensembles participating include The Pina Bausch Company, The Living Theatre, The Bread and Puppet Theater and Rimini Protocol. There will be about 50 Indian theater artists participating. Other global participants will include over 40 artists from at least 30 countries, notably: Guillermo Calderón (Chile), Toshiki Okada (Japan), Jeton Neziraj (Kosovo), Frédérique Aït-Touati (France), Paper Moon (Indonesia), Govin Ruben & Terence Conrad (Malaysia) and Guy Régis Jr. (Haiti).