With the commercialisation of the media and the education system, the study of language and literature, especially in the mother tongue, has suffered, in turn leading to an erosion in the quality of art criticism and journalism
In my book A Dancer on Dance published in 1984, there is a short chapter titled Art Criticism is as Divine as the Art Itself, based on Vyaktivyanjanam of the Natya Sastra and Sabhapathi Lakshanam of Abhinaya Darpana. The essential qualities of an art critic or journalist mentioned in it are:
· Sriman (wealthy)
· Dheeman (wise)
· Viveki (discriminating)
· Vitarana nipunaha (expert in providing succour to the needy or expert in choosing honours )
· Gaanavidyaa praveenaha (well-versed in music and lore)
· Sarvaggnaha (versatile)
· Keerthisaali (celebrated)
· Sarasagunayuta (possessing pleasing virtues & good character)
· Bhaava haaveshwabhignaha (well-versed in nuances of the art)
· Maatsarya dwesha heenaha (without envy or malice or bias)
· Sadaachaarasheela (possessing good conduct)
· Dayaalu (kind)
· Dheerodaattaha (bold & patient)
· Kalaavan (artistic)
· Abhinayachaturaha (proficient in the art of abhinaya and all aspects of sangeetam, nrittam, geetam and naatyam)
All these qualities apply to an individual art critic and the organisation. However, it is very difficult to find such qualities in the present-day context. Till two to three decades ago, art and art journalism thrived well within the parameters of the qualities prescribed. When those at the top of the hierarchy started pushing art and culture to the least priority list, true art journalism also went extinct.
Mother tongue, a thing of the past
The mother tongue as a medium of instruction is slowly being replaced with English or other foreign languages, because of the commercial or economic values of the latter. Studying literature in one's own mother tongue is also a thing of the past. This has contributed to the erosion of our Bhaarateeya Sanskriti and the value attached to it.
However, children can become good writers or poets or philosophers only if they are taught, in their mother tongue. There is a strong belief today that language or literature courses are not lucrative compared to others.
Our governments and educationalists should give importance and priority to literature and language and treat it on par with other courses and also offer fair emoluments to professional writers or those pursuing journalism and raise their status.
Media houses too should remunerate their employees adequately, matching other professions. Good writers influence society in multiple ways and help in reforming society and social behaviour.
Kerala has a compendium of innumerable varieties of performing arts and ritualistic arts and the wealth of literature our predecessors have left behind is immeasurable. Kerala might be 100 per cent literate as well but one wonders at times whether this is saaksharatwam or raakshasathwam. Real literacy should make people think rationally and logically and strive for a righteous life, as our Sanaathanadharma says, 'Let us live together, let us eat together, let us work together with sharpened intelligence, with no enmity toward each other and let peace prevail.
Do these ideals have a place in this God's own land or have we made it a devil's workshop?
Sensationalism has taken over
Due to the commercial nature of the media, they often ignore the ethos and aesthetic value of art and culture and instead, indulge in cheap displays of vulgar entertainment to cater to the base instincts of crude minds. The media forget and ignore their primary duty and purpose — education, elevation and clean entertainment.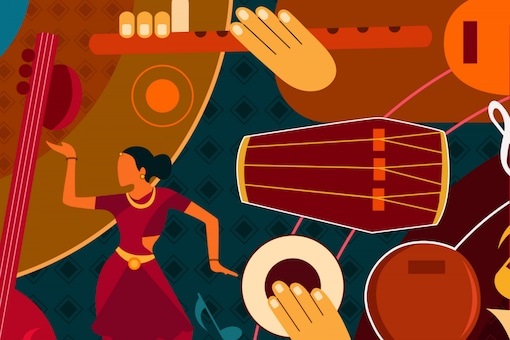 Literature and good journalism have a larger responsibility towards the young generation. Unfortunately, these are controlled by corrupt politics, nepotism, sectarianism, religion, caste, creed and all that eschew humanism at the grassroots.
As I mentioned earlier, art journalism is as divine as the art itself. Art and culture are inseparable aspects of life. There is abundant talent in Kerala but they are not being harnessed. Very few venture into the art of writing and opportunities in literature are dwindling day by day. The print media always cry about the want of space. Politics and cinema occupy a major chunk of the space and commercial advertisements are preferred for generating more revenue. At the same time, good literary writers feel frustrated as they are forced to beg to get their work published. With great persuasion, if they get published they are not given legitimate remuneration. There is little hope for art journalism in such circumstances.
Encourage talented writers
We need critical analysis to maintain authenticity and improvements especially in the field of performing arts. What we see today is only reporting of events with captivating pictures, with no critical review of a performance. Freedom of expression is often suppressed due to nepotism and favouritism, and the policy is to not criticise the work of particular artists. As a result, mediocre and substandard artistic endeavours form the majority, bringing down the standard of art forms to a mundane level. Very often, amateur and non-professional artists go to civil courts for being criticised, for not getting in competitions. This is an unwarranted situation prevalent only in Kerala, probably.
Talented writers do not come forward fearing burning their fingers and getting caught in ego wars. Some of the best art journalists in Malayalam move to better pastures in English publications where they get their due recognition and reward. Kerala should revert to the more congenial atmosphere which prevailed here a couple of decades ago. On a positive note, if established Malayalam publications could train deserving and talented writers with proper remuneration, Kerala could justifiably be proud of producing art journalism of exemplary calibre.