A poignant celebration featuring Bhagavadajjukam and Kavalam's unique style.
Rich tributes were paid to the memory of Nedumudi Venu on his second death anniversary jointly by Kerala Sangeetha Nataka Akademi and Kavalam Narayana Panicker's Sopanam in Thrissur.   Bodhayana Kavi's Sanskrit play Bhagavadajjukam, translated and directed by Kavalam Narayana Panicker, was staged as a part of commemoration.
Bhagavadajjukam is a prahasana, one among the Rupakas, noted for humour and staged invariably on Koodiyattam stages.. Painkulam Rama Chakyar, among the traditional performers, was the first to recognize the theatrical beauty of Koodiyattam, which was traditionally a ritualistic performance. His choreographic ingenuity allowed him to condense Bhagavadajjukam, originally a 36-day performance, into a three-hour play while retaining its essential theatrical elements. It's no surprise that his direction made the play accessible to a wider audience.
Kavalam, with numerous plays to his credit in Malayalam and Sanskrit, achieved much acclaim with Bhagavadajjukam when it was first produced in 1976. Its relatively short duration, only 75 minutes, made it suitable for staging like any other modern play.
A fitting tribute
Selecting this play for the occasion was fitting, as Venu had immortalized the role of the Guru (Bhikshu) in this play, with his unmatched artistry.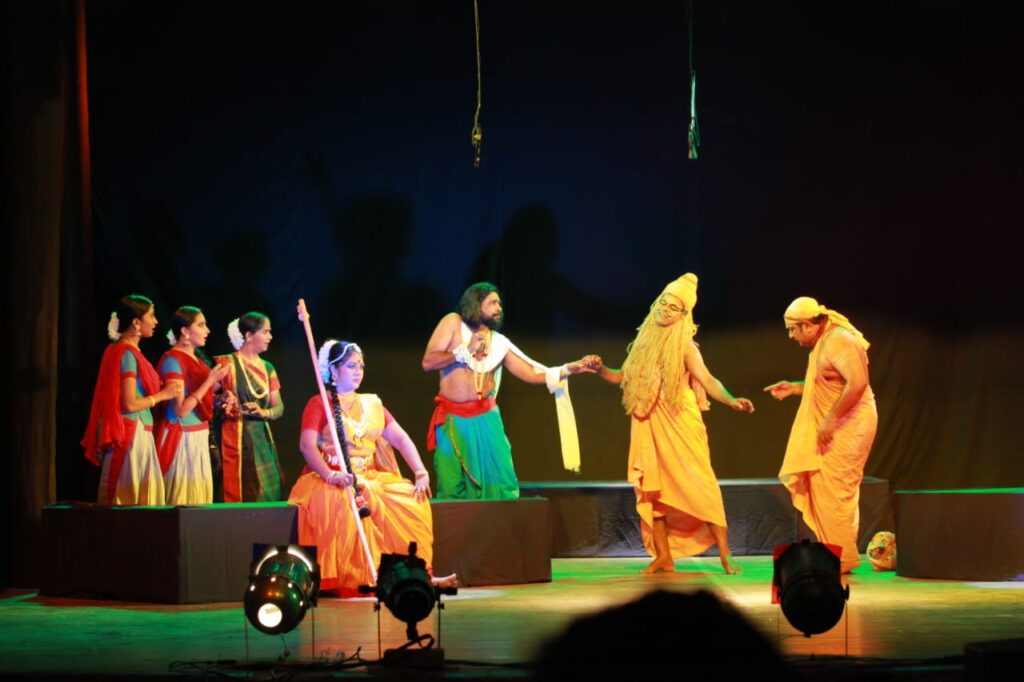 The play centers around a Bikshu (Guru), a mendicent completely detached from worldly life and living on alms. Sandilya (Sishya), hailing from a poor Brahmin family, seeks food, his primary obsession, through various faiths. Disappointed by the meager offerings at a Buddhist monastery, he joins the Bikshu, who makes him carry his possessions like a donkey. But here too, he faces starvation.
The play opens with the Guru searching for the Sishya in the dark. Their dialogue reveals Sandilya's dire predicament. They later retire to a garden, where they encounter Vasantasena, a courtesan, accompanied by her Sakhi, Parabruthika, waiting for her client Ramilaka. Her captivating rendition of a song captures the attention of the Guru and Sandilya.
While picking flowers, Vasantasena dies from a snake bite, orchestrated by Yamadootha, the messenger of Yama. Sandilya's grief is overwhelming. The Guru revives her through 'parakayapravesa,' transferring his soul into her body. The situation becomes bewildering as the Bikshu collapses, and the courtesan starts behaving like the Guru. Meanwhile, Yamadootha arrives, realizing his error in victim selection. Seeing the Guru dead, he transfers the courtesan's soul into him.
By this time, Vasantasena's mother and a physician arrive. The feminine behavior of the ascetic and the woman's imitation of the ascetic's mannerisms create utter confusion. Eventually, Yamadootha rectifies the situation by exchanging their souls once more. Sandilya is left perplexed, with the Guru promising an explanation after reaching their ashram, bringing the play to a close.
Kavalam's unique theatrical style
Kavalam's distinctive style permeates the play. The Guru's abhinaya is stylized (natyadharmi), while the Sishya's antics are purely realistic (lokadharmi). His dialogues often have overtones of Koothu. Yamadootha's aharya is completely black in colour and owes much to that of a Koodiyattam artiste.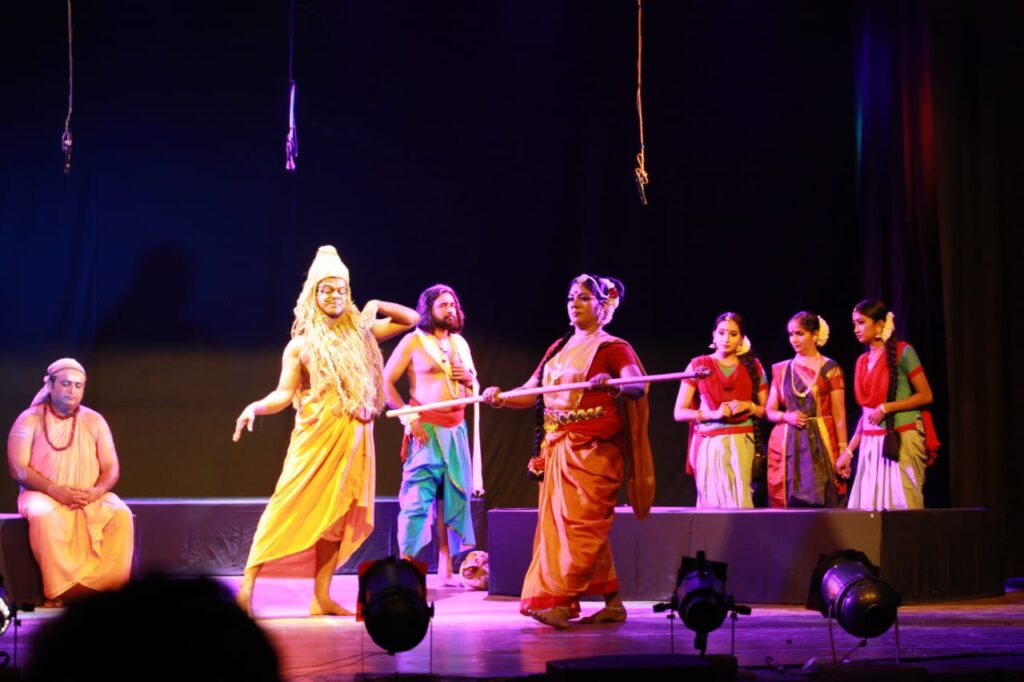 Rhythm, a demarcating feature of Kavalam School, plays a prominent part throughout. This was evident from the gaits of the Guru. The second entry of Yamapurusha from among the audience and his interaction with them is especially noteworthy. The physician's antics and his futile attempts to revive the courtesan's lifeless body leave the audience in splits. Stage props are minimal.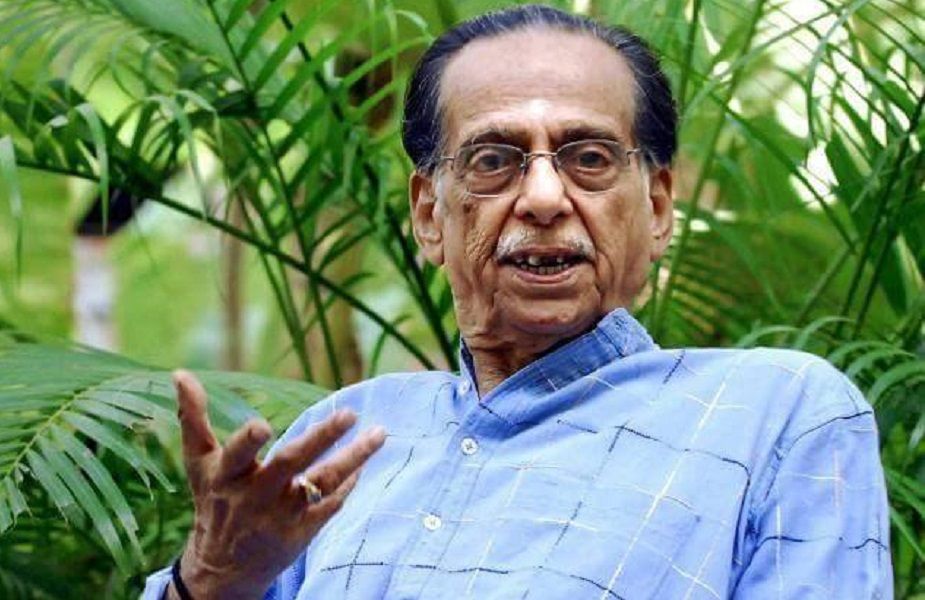 All the actors displayed seasoned performances, including Girisan V (Guru), Ayyappan G (Sishya), Mohini Vijayan (Vasantasena), Komalan Nair (Yamadootha), Madhu R S (physician), Malini Vijayan (mother), Kirthana Ravi (Parabruthika), and Bose Vidyadhar (Ramalika). Percussion accompaniment, including mizhavu, was provided by Ramdas K. Costume design was by the late maestro, G. Aravindan.