As the part of this, Kalamandalam will be starting new courses
The Kerala Kalamandalam Deemed University will be made into a Cultural University in a span of five years, the Minister for Cultural Affairs Saji Cherian has said. He was speaking at the Sangeeta Nataka Akademi after inaugurating various projects of the Kalamandalam. Minister K Radhakrishnan was the one who put forward the need to raise the Kalamandalam into a cultural university.
The Minister added that the land needed for the new move will be acquired soon, while the Kalamandalam will be developed further by adding new courses and basic facilities. "Art and culture activities in the State should be strengthened to combat the dangerous trend of holding on to irrational customs, which are a threat to peace in the State. It is important to protect art forms which are going extinct in an age where people are killing each other in the name of Gods. The Mazhamizhi project is an attempt from the part of the State government to provide a helping hand to struggling artists during these times," he added.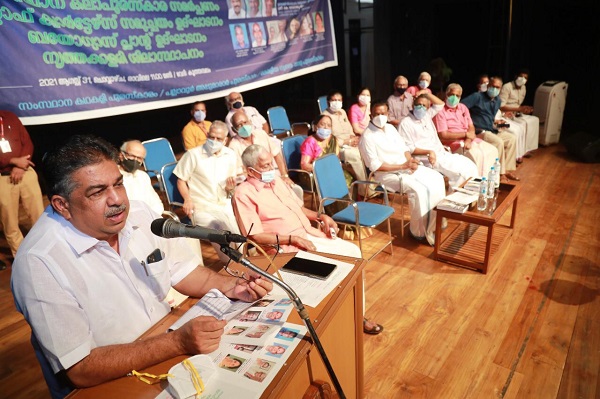 The annual State Kathakali award, the Pallavoor Appu Marar Award and the Keraleeya Nritya Natya Puraskaram for the years 2019 and 2020 instituted by the State Government were awarded to talented artists on the day. Kathakali master Vazhenkada Vijayan and Sadanam Balakrishnan received the 2019 and 2020 Kathakali Awards while the Pullavoor Appu Marar award was presented to Machad Ramakrishnan Nair and Kazhakoot Aniyan Marar. On behalf of dancer couple V.P Dhananjayan and Santha Dhananjayan, their students Shabana and Shafeeq received the Keraleeya Nritya Natya Puraskaram. The award consists of a plaque and Rs 1 lakh.
The PWD has completed the construction of the staff quarters for the Kalamandalam staff at the cost of Rs 2 crore. A biogas plant was also installed for Rs 9,70,000 in addition to kicking off the construction of a Nritakalari.
The programme which was supposed to be held at the Kalamandalam Koothambalam was held at the KT Muhammed Memorial Theatre at the Kerala Sangeeta Nataka Akademi. Kalamandalam Vice-Chancellor Dr T. K Narayanan, Pazhayannoor Block Panchayat President KM Ashraf, Kalamandalam committee members Padmashree Kalamandalam Gopi, Padmashree Peruvanam Kuttan Marar, NR Gramaprakash and Kalamandalam Prabhakaran took part in the meeting among others.