Women have been side lined in several spheres the world over. Chennai's Sundara Divya Ganam, an all-women ensemble concert, was a step towards breaking the glass ceiling.
Though more women than men learn and teach music, they are heavily underrepresented in all other aspects such as composing, organising and producing. In fact, a 2017 report said that only 1.8 per cent of the music programmed by major orchestras in the US was written by women. These statistics transcend geography.
In Carnatic music, while there have been female composers, few are commonly known or performed in the mainstream. All-female-owned sabhas are a mere handful and female percussionists are few and far between the world over. In this context, Sundara Divya Ganam, a programme organised on March 8, International Women's Day, was likely an unprecedented one. A nine-member all-women ensemble presented 10 compositions of Sundaravalli Ammal (1906-1981) tuned by veteran Carnatic vocalist Seetha Narayanan, instrumental interludes composed by R.S. Jayalakshmi and coordinated by Jayalakshmi Balakrishnan, the secretary of Naada Inbam.
The chief guests were popular vocalists Ranjani and Gayatri and Meenakshi (Sumathi) Krishnan, Secretary of The Music Academy. For the book released on the occasion, the forewords were written by Suguna Varadachari, senior Carnatic vocalist and teacher and Prabha Sridevan, retired judge of the Madras High Court and also an author and a translator.
Who was Sundaravalli Ammal?
Sundaravalli Ammal was married at age 14. She was a housewife who moved, with her husband, between many cities and towns in the erstwhile Madras State. As was common then, she managed a large household with many family members. While not trained in music or literature, she would write a song about every temple she visited.
In 1991, Sundaravalli's daughter, a botanist, Andal Ananthanarayanan (1929-2013), published the first set of her mother's works. Last year, in 2021, Andal's son, Amarnath Ananthanarayanan, had another set of compositions published, and also tuned (by K. Arun Prakash) and presented.
"My mother too was a pathbreaker, doing a PhD in an era when it was unheard of for women," says Amarnath. "She even told my father that their marriage would have to wait until she completed her doctorate!"
Celebrating Ammal's compositions
The idea for Sundara Divya Ganam began with the family unearthing yet another set of Sundaravalli's compositions. These were on the Divya Desams, 108 temples of especial significance in the Vaishnavite tradition. As Suguna Varadachari mentions, Sundaravalli's lyrics, written in simple, easily comprehensible Tamizh, describe key facets of each temple such as the names of the deity, the consort, the official vehicle among other details.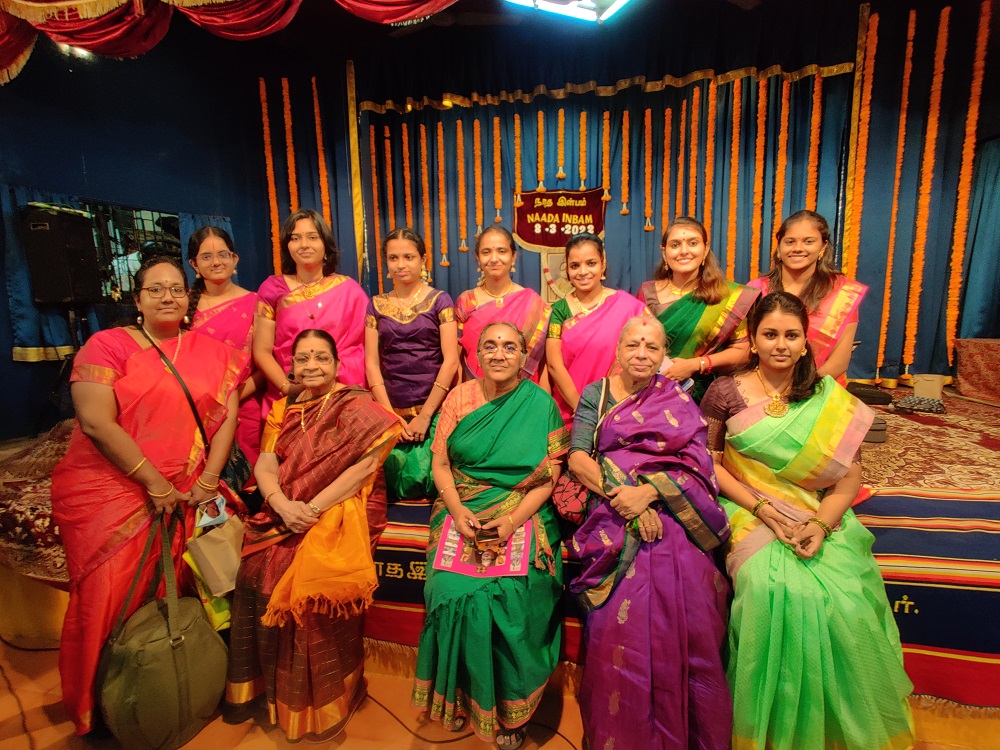 Amarnath saw an excellent opportunity to celebrate Women's Day with women cast in all roles. Seetha Narayanan was his first choice for tunesmith, as Amarnath has been a long-time admirer of her music. She is an A-Grade vocalist from All India Radio Chennai whose Gurus include Kasi Viswanatha Bhagavathar, Nagercoil Harihara Iyer, P.K. Rajagopala Iyer, S. Ramanathan (from whom she learned veena as well) and Chingelpet Ranganathan. She is also an excellent repository of bhajans in various languages that she learned in their authentic styles.
Reaching perfection
Seetha carefully selected 10 compositions and appropriate pasurams (devotional verses by the Azhwars, Tamizh Vaishnavite poet saints) for each temple too, tuning them as preludes for each composition. Besides being a link between old and new eras, she hoped that the pasuram and the song together would present a complete picture of each temple.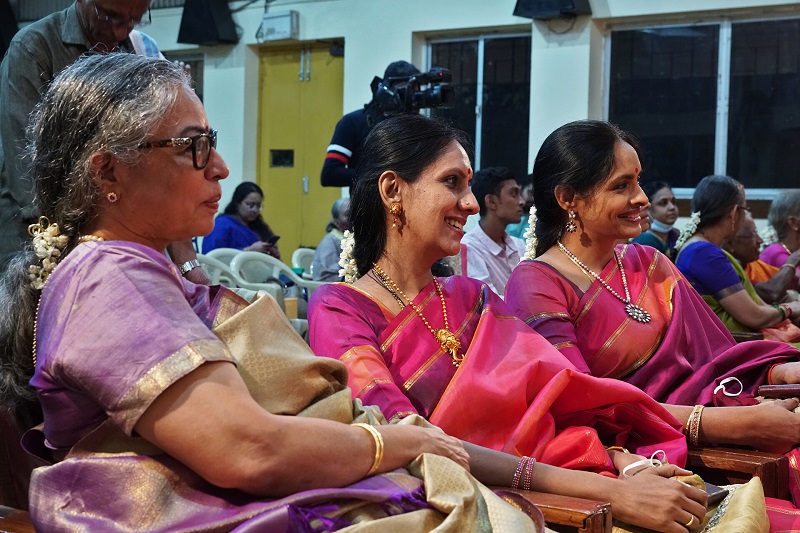 Rubrics for ragam selection included ensuring that there was a mix between unambiguously Carnatic and Hindustani inspired ragams, both heavy and light, and those that would fit together to provide for a satisfying live performance for the listener. She then taught the performers the tuned pieces over a few sessions on Zoom. Live rehearsals were conducted at Naada Inbam's home of Raga Sudha Hall, overseen by Jayalakshmi.
The rising stars
Over the decades, Naada Inbam has exposed the listening public to many talented youngsters several of whom are today's best and most sung. Jayalakshmi used her many years of experience to hand-pick a brigade of young promising performers ranging in age from 15-28.
Ameya Karthikeyan, currently a student at The Music Academy's Advanced School for Carnatic Music on vocals Madhuri Kaushik, currently a student of Ranjani and Gayatri, on vocals. Svarathmika Sureshkumar, currently a student of Suguna Varadachari, on vocals. Haritha Narayanan, currently a student of Delhi P. Sunder Rajan, on violin. Charulatha Chandrasekhar, student and granddaughter of R.S. Jayalakshmi, on veena. Poornima Krishna Emani, currently a student of Niranjana Srinivasan, on flute. Aswini Srinivasan, student of T.K. Murthy, on mridangam. Ramya Ramesh, currently a student of Sukanya Ramgopal, on ghatam Maitreyi Vijay, currently a student of R.K. Shriramkumar, prayer song, introduction of each piece and tambura.
What they said
Speaking on the occasion, Gayatri, of the Ranjani-Gayatri duo, said that while women have always been credited as nurturers, sustainers and loving presences, rarely do they get acknowledged for being at the forefront of economic, creative or intellectual activity. Seetha Narayanan was a pole star of inspiration, she said, and one who indulged in music with childlike enthusiasm without any expectations at all. She allowed every student to spread one's own creative wings.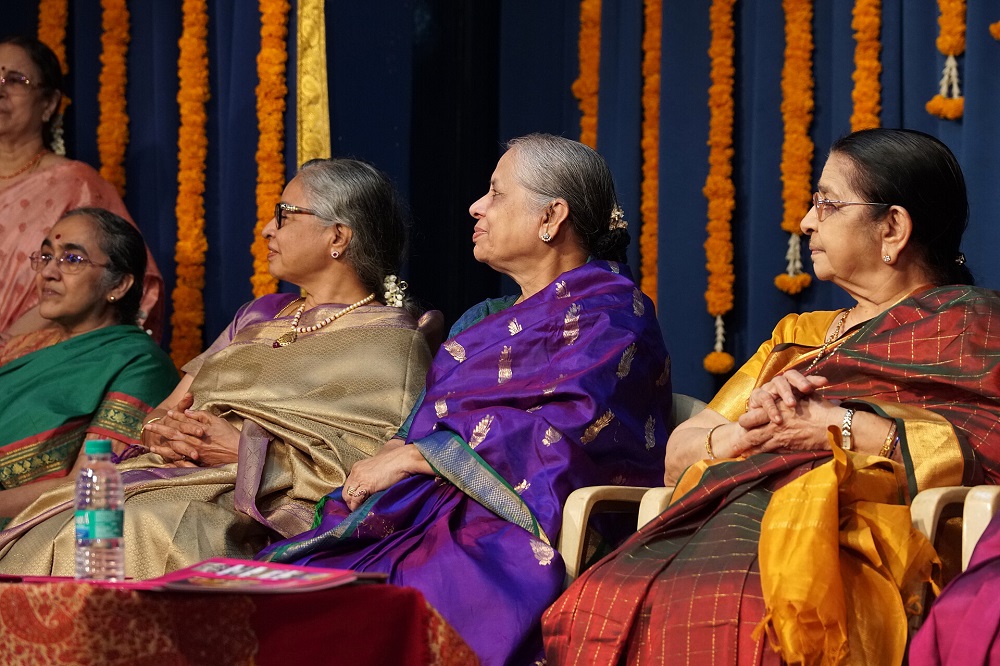 Years ago, when the sisters had expressed a desire to learn bhajans from her, Seetha mami had shared many recordings with them and told them to sing it in their own way, added Gayatri. Meenakshi Krishnan stressed on the criticality of documentation for archival. After stating that tuning was no trivial task, she mentioned Subbarama Dikshitar, composer and author of the seminal Sangita Sampradaya Pradarshini, who, in the early 1900s, had tuned Samskrta Andhra Dravida Kirtanulu, the compositions of a lawyer, Krishnaswamy Ayya of Ettayapuram.
One of those pieces in common circulation, she mentioned, is 'Amba Paradevate' in Rudrapriya ragam. Meenakshi went on to say that it was the singers who, by performing the compositions, brought them into circulation, adding polish and lustre to tuned pieces. Prabha Sridevan rightly noted, "Women did not lack creative genius – the social structures inhibited them." She was referring to Sundaravalli Ammal's times in the 20th century but, as recently as six months ago, when Marin Alsop finished her tenure at the Baltimore Symphony Orchestra, there were no more female directors in the US's Top 25 ensembles.
Setting the bar
In 'conservative' Chennai, by showcasing a female composer's works tuned by a female tunesmith, performed by an entirely female ensemble and convened and presented by a female organiser, Sundara Divya Ganam shattered several glass ceilings in one go. One hopes this event serves as a harbinger of greater things to come from women, and the perception of women, not just in Chennai or India but all over the world.
For e-copies of the Sundara Divya Ganam book, please email [email protected]
Write to us at [email protected]