A rare trio Carnatic vocal concert by Baby Sreeram, Sharmila and Shantala featured many rare compositions.
The idiom goes, "Two is company, three is crowd". But not for Baby Sreeram, Sharmila and Shantala for whom three appeared a company while presenting a trio vocal concert recently under the aegis of Sree Thayagabrahmasabha, Thrissur. The two-hour-and – a-half concert was perhaps the first in the history of Carnatic music.
Said Shantala, "Me and my sister Sharmila planned such a novel attempt since we could get an opportunity to rise to the level of our elder sister". True, her observation proved right going by the meticulous performance of the three.
Group singing in Carnatic music is rare – the prominent exception being Pancharatna Kirtanas – thanks to the insistence of a fixed sruti (tonic) for the singers, unlike in Western Music. As for the concert under review, the three seemed to have compromised their own pitch for a common one; but it did not affect their rendition. Interestingly, they sang in unison and also in turn thereby getting enough opportunity to exhibit their own virtuosity.
Well chosen compositions
Baby Sreeram  began with a short alapana, the Swati Kamboji varnam in ata tala, "Sarasijanabha ninu". She was joined by the other two in turn. This was followed by a Ganesha stuthi, "Gana rajendra rakshotoham" in Arabhi and misra chap. While Sharmila opened, others joined in turn, especially in the swaras of the Dikshitar composition. It was well received.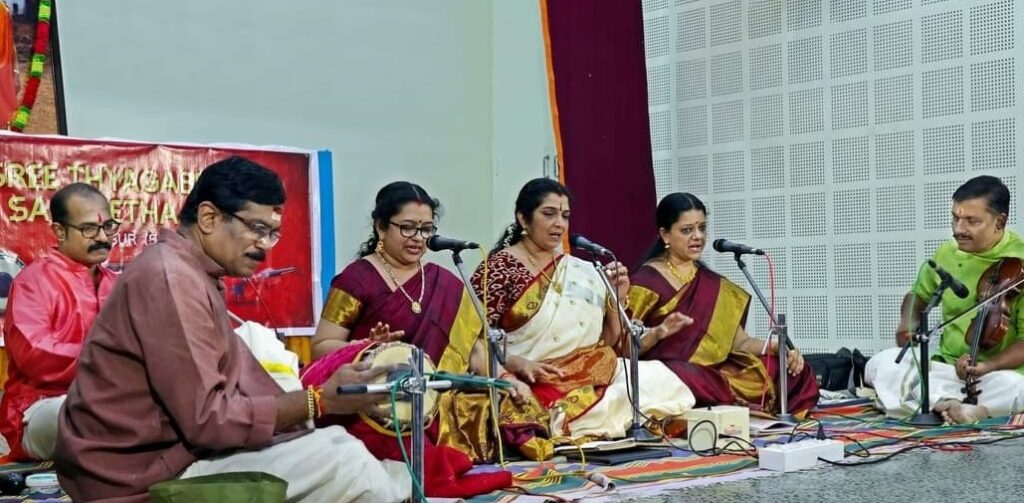 Annaswamy Sastri's Asaveri compsosition 'Sree Kanchi Nayike' in roopakam presented mostly jointly was in perfect sync. "Vadarasa ne" is Walajapet Venkita Ramana Bhagavathar in praise of his guru Thyagaraja, in Poorvikalyani and adi. Baby Sreeram's penchant for dynamics was more discernible here. Sharmila was seen more comfortable in upper sthayi. The number was especially noteworthy for the profuse rendering of swaras that extended for minutes.
After the much common Darbar composition of Thaygaraja 'Aparadhamu' in Khantachap, the main raga Kiravani was taken up. The treatment was so elaborate that it extended for nearly one hour. The advantage of 'division of labour' in concert was experienced since each singer could bring out fresh phrases both in niravals and swaras and these could be heard echoed by Vayala Rajendran on the violin.
The concert owed its success to the percussion duo K Jayakrishnan (mridangam) and Aluva Rajesh (ghatam). While Jayakrishnan's pakkam for the renditions was remarkable, his tani was in the right proportion.
Two ragamalikas marked the finale. The first was 'Maname diname' which was originally in Mandu composed by the late musician N Ramaswamy and the second, by Neelakantan Sivan originally composed in Suruti and recomposed in ragamalika by Baby Sreeram.
Photo credit: Sunil Ammadam